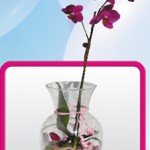 Beautiful glass vases filled with decorative marbles are easy to find on the pages of decorating magazines, but the flowers in those vases dry out fast in real homes. A new product aims to offer the beauty of high decor with the practicality of a long term, low maintenance watering system. This decorative new "Green" resource for maintaining plants and flowers is called, "Water Pearls." Water pearls are vibrant and colorful. They not only keep your plants healthy, but beautify and decorate your home, office space, or special event at the same time. Water Pearls come in ten beautiful colors: teal, pink, coral, lime, black, purple, yellow, orange, clear, and blue, in either 6 or 8 gram packages. They are sold in dry form, but when added to water, increase in size 150 times after soaking for eight hours. You may also add a liquid fertilizer prior to soaking them, if desired, for best results. After washing all the dirt off your plant's roots, the water pearls are then added to a clear vase or container, along with your plant, using the pearls as a replacement for the potting soil.
Use them also for fresh flowers, leaving a small amount of water at the bottom of the vase to cover the stems. Unlike glass marbles, the water pearls will continue to release the appropriate amounts of water your particular plant needs for the next 4 to 6 weeks, thus eliminating the guesswork out of watering. It is impossible to over or underwater your plant. The water pearls last for years, and only need to be rehydrated approximately every 4-6 weeks when the pearls become noticeably smaller in size. They can be rehydrated over and over again for years.
The company's owner is enthusiastic about her water pearls. "This is a superior high quality product" she states. The product in this form is brand new in the United States, and has only been out for a short time. Unlike crystal soils, with are made of a silica gel and are prone to mold, mildew, and fall apart easily, or rainbow soils, which don't rehydrate for as long a period of time, the water pearls are made of a heavy duty polymer, similar to that of contact lenses. They last for years, and are non-toxic, mildew resistant, and retain their size, shape and color. What a perfect product for the person with the black thumb, or the individual who travels a lot, owns a vacation home, is planning a wedding or special event, or for those who love beauty and practicality. The product makes a perfect gift, as it comes in small packages that can be inserted in cards and envelopes. Other wonderful uses of the water pearls include candles, massage therapy, use with essential oils and aroma therapy.
Business for this hot 2010 new product is wonderful. The newness and uniqueness makes it an excellent product to sell, as well as the huge markup of up to 1000%. A starter package which contains all ten colors is available for under $500, along with a distributor packet to help you begin or add to your current business. According to the owner, water pearls are highly desired and well-loved by customers. "We get many repeat customers, which speaks volumes for the water pearls," she states.
For more information:
Phone: 843-236-8225 or 843-685-8073