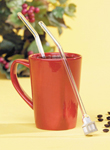 Wisdom Wands, makers of coffee and tea accessories, offer the Java Wand, a follow up to last year's successful Health Tea Wand. The Java Wand is a heat proof, durable glass straw with a miniature French press tip. The Java Wand makes enjoying a perfectly brewed single cup of coffee as simple as placing this specially designed "coffee maker" into a cup of hot water. You add coffee grounds and stir. Then you can add other things like milk, sweetener, specialty syrups, or anything else you normally add to coffee. The Java Wand can be used to brew coffee or tea, and the Health Tea Wand is specifically for brewing tea.
Perhaps best of all, because the wand allows coffee drinkers to sip directly through a glass straw rather than from the mug, unpleasant teeth stains associated with drinking coffee are avoided. The Java Wand brews and filters hot coffee, tea and any herbal infusions through a uniquely designed mini filter at the end of the glass straw, in about ten seconds. Because the user has complete control over the flavor, strength and temperature of the coffee, the Java Wand provides a tailor brewed cup every time.
The Java Wand is made of durable glass, because glass is the only safe material in which to consume hot fluids. Along with the Java Wand, the company offers a carry case to keep the wand safe during transit. The wholesale price for Java Wand ranges from $8 to $10, depending on volume. Suggested retail is $19.99. There is a minimum order of 12 pieces. When 24 units are purchased, the wholesale price drops to $9. For orders of 50 or more, the wholesale price drops to $8.
For more information:
Wisdom Wands
2040 West Main St., Suite 210-1977
Rapid City, SD 57702
Tel: 305-494-9304
Website: www.wisdomwands.com