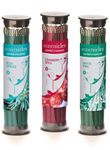 One of the downsides of artificial Christmas trees is that they just do not smell like the real thing. But now Environscent has come to the rescue with a variety of ScentSicles, scented ornaments for the Christmas tree, that will bring that artificial tree to life with the real smell of fresh cut pine and other pleasant scents. The top selling SKU in Environscent's line of scented ornaments is called, "Christmas Morning," an ornament that has the scent of a Douglas Fir. Available in packs of eight, the 5.5 inch sticks are topped with a decorative cap and include ornament hooks. Hang them as decorative ornaments, or hide them in tree boughs and floral arrangements. Completely biodegradable, ScentSicles are a safe and eco-friendly option for creating an authentic holiday experience. The user can hang two to three ScentSicles at a time for a consistent, lighter scent, or four to six units for a stronger scent.
Other scents in the line are Cranberry Spice, White Pine, Grandma's Kitchen and Blue Spruce. The White Pine is another big mover in this line.
ScentSicles wholesale for $4.49 a pack and the suggested retail is $8.95. The minimum order is $200. The company has a special offer for gift shops that buy 48 unit packages. They get a free display crate, which holds 24 pieces. The buyer also gets two ScentSicle packs for free, that can be used for sampling in the stores; a sure way to sell this delicious product. The price of this special package comes to about $216, so it meets minimum order requirements.
For more information:
EnviroScent
5605 Glenridge Dr., Suite 760
Atlanta, GA 30342
Toll Free: 877-917-2368
Tel.: 866-435-1832
Website: www.enviroscent.com