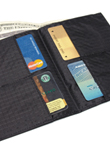 The World's Thinnest Wallet by ALL – ETT features wallets that stay thin when fully loaded, so pants hang straight and the wallets are comfortable to sit on. But, you may ask, what is the secret of a wallet that stays thin, even when crammed to the gills with stuff? According to the company, the secret is in the materials used in its three lines of wallets and accessories. The Rip-Stop Nylon line is very strong, yet extremely thin and lightweight nylon material. The cross pattern stitch found in rip-stop nylon gives it added strength, and rip-stop nylon is water and sweat resistant, as well as easy to clean. The amazing material is paper thin, yet tough as nails. ALL – ETT offers seven products in this line. The Rip-Stop Nylon Original Wallet wholesales for $9.97 and has a suggested list of $19.95. Prices vary among different items, for example, the Rip-Stop Nylon Card Case wholesales for $3.47 and has a suggested retail of $6.95. The company's minimum order is 20 wallets.
EcoThin wallets by ALL – ETT are made of Recycled Plastic Bottles. This recycled material known as P.E.T., or Thermoplastic Polymer Resin, is extremely tough, as well as water resistant. The EcoThin wallet gives users a green place to keep their green. The Original Wallet in this line wholesales for $12.47, with suggested retail of $24.95.
Leather ALL – ETT wallets are designed with a thin genuine leather exterior, combined with an ultra thin rip-stop nylon interior. The leather used to create ALL – ETT wallets is top quality, full grain leather, which adds years to their lifespan. The rip-stop nylon interior keeps the wallet thin for guaranteed comfort. The Original Leather Wallet has a wholesale price of $17.47, and suggested retail of $34.95. The company recently switched all of its production back over to the U.S. from overseas in the last six months, in an effort to help the domestic economy.
For more information:
ALL – ETT
14949 Eastvale Road
Poway, CA 92064
Toll Free: 800-642-2226
Website: www.thinnestwallet.com