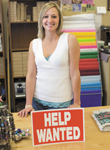 Retail experts monitoring the job situation nationally say they expect holiday hiring this month to be up over the same period last year, which was up sharply over the economically challenged 2008 shopping season. But forecasts from both the outplacement firm, Challenger, Gray & Christmas, and the consulting firm, Hay Group, say retailers might start their hiring slowly, even waiting until late November or into December before making final decisions on hiring headcounts. But, "even if retailers are not ready to make hiring decisions until November, they may begin screening candidates much earlier," says John Challenger, CEO of the firm bearing his name.
One reason for the expected boost is that retail sales have been slowly but steadily rising in recent quarters. However, there remains concern about that ongoing growth. "There is still a lot of doubt about the sustainability of this economy," says Challenger. "Retailers do not want to get caught with too many workers at a time when many of the fundamentals needed for strong consumer spending remain a little shaky." Indeed, the research firm Deloitte forecast a modest two percent rise in holiday season sales, as slow economic growth continues to keep household spending plans in check. Still, that concern is not holding back one of the larger companies. Toys"R"Us is already hiring to fill its express stores. The company has opened 300 of the planned 600 Toys"R"Us Express stores. The temporary stores are designed to cater to the high demand for toys during the holidays, adding to the already existing 587 full size Toys"R"Us stores in the U.S.
Last year, retail payrolls grew by 501,400 workers in October, November and December, according to data from the Bureau of Labor Statistics. That was a 30 percent increase from 2008, when holiday hiring fell to a 22 year low of 384,300 extra holiday helpers, in the wake of the global financial crisis. Holiday payrolls grew by 746,800 in 2006 and by 720,800 in 2007.