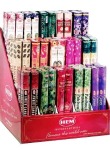 There are numerous wholesalers carrying fragrances and scented products, but very few actually import them directly from the source country. "Our aroma oil lineup is quite different in that we get it from India," says company president Vineet Gupta. "They're blended with natural herbs and have a strong, long-lasting scent," he adds. That product is just one of more than 200 items available at VDimporters.com, Gupta's website, making the company a standout in its field.
"We sell to all sorts of outlets, from dollar stores to kiosks to gift stores and flea market vendors across both the U.S. and Canada," Gupta says. The four-year-old company carries a full line of oils, candles and incense sticks, including the ever-popular Nag Champa line. "Our Nag Champa incense wholesales for $6.99 for a dozen packs of 15 grams," he says. "Retailers can turn around and sell it for $15 a box." VD Importers also has other incense sticks at equally attractive prices. "We carry more than 150 fragrances that wholesale for $2.25 a box for six boxes of 20 sticks each," Gupta says. "They retail for 99 cents a box, and have a great shelf life with the scent lasting for up to two years," he adds.
VD Importers' aroma oils are also a great buy, wholesaling for 65 cents for a half-ounce bottle or $1.25 for a two-ounce bottle. The half-ounce retails for $1.99, the two-ounce for $3.99, and a handsome wooden display rack is available for $40, or it's free when buyers order 500 half-ounce bottles or 300 two-ounce bottles. There is also a great deal on various electric aroma lamps, which wholesale for only $6.50, but retailers are reselling for $19.99.
"We also offer special deals and promotions on our site every couple of months," Gupta says, "and a special discount to anyone who mentions they saw our ad in Independent Retailer magazine." The company also carries a full line of candles in 4", 6", 8" and 10" lengths, all at reduced prices. The 10" size wholesales for 79 cents for a four-pack, and retailers are selling them for $1.99. Best of all, no registration is required at VD importers. Just log on and begin ordering.
For More Information:
VD Importers Inc.
4960 NW 165th Street, Unit B20
Miami, FL 33014
Tel.: 305-620-2006
Website: www.vdimporters.com