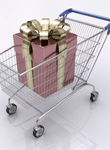 While there is always hype around Black Friday and Cyber Monday sales, it can't be denied that Christmas lists and holiday shopping begins well before the Thanksgiving turkey has been carved. A recent NRF consumer survey reveals that more than 37 percent of shoppers, which includes 42 percent of women, plan to have some holiday shopping completed before Halloween has come and gone. As a result, wholesalers and the retailers to whom they supply are happy to oblige by stocking shelves earlier and earlier each year, chasing the estimated $450 billion of holiday spending.
Multiple Holiday Shopping Channels Part of the Preparation
Carrying Christmas and holiday merchandise won't be the only requirement for keeping merry customers and ensuring holiday profits, however. As Chain Store Age magazine notes, "Implicit in [retailers'] preparation is, or should be, the fact that omni-channel consumers are increasingly dictating the shopping experience and transforming the retail landscape in the process. These consumers, more tech-savvy and 'connected' than ever before, are comfortable browsing and shopping multiple channels." What you have to ask yourself is whether you are willing to be open to a new business model? As the old saying goes, "Don't fix something that isn't broken," but without a second look you could be missing out on your true selling potential, something that won't easily be forgiven by your customers. As Retail Systems Research (RSR) explains in a benchmark report titled, "Omni-Channel Fulfillment and the Future of Retail Supply Chain," current business and supply-chain models assume that the store is the endpoint of a transaction. In actuality, "Current supply chain models are not suited to an omni world, a world where consumers increasingly have little care which channel they use to research, selct, transact or collect products."
Below are some of the tactics being adopted by big box retailers and chain stores in preparation for cross-channel integration this holiday season. Shouldn't you be ready before the big selling season is over?
1. Integrate all channel platforms.
You don't want to lose a shopper and their purchase because the research, selection and transaction channels they have chosen don't operate smoothly with one another.
2. Differentiate you brand with mobile marketing.
It comes as no surprise that the increasing daily use of smartphone applications (apps) and smartphone browsers has created a channel for your customers to purchase products. As Portio Research Limited's report, "Mobile Applications Futures 2010-2015" forecasts, "The global mobile applications user base is expected to grow at a compound annual growth rate of 37 percent between 2009 and 2015 to reach nearly 256 million by the end of 2015." Embracing m-commerce could potentially market you to those 256 million users and consumers.
3. Maintain price transparency.
According to Chain Store Age magazine, "When channels were operated in vacuums, different departments maintained different channels. As a result, prices often differed between channels." Yet with increased access, customers can check all channels, calling you out on any discrepancies. Be transparent and keep consistent.