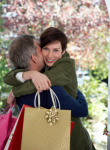 Despite a slow economic recovery, holiday retail sales are expected to be up 2% over last year, Deloitte LLP reports.
Deloitte's retail group says it sees total holiday sales hitting $852 billion from November through January, a 2% rise over the same period in 2009. Deloitte also foresees a 15% bump in online sales as well.
The full story with all the numbers starts HERE.