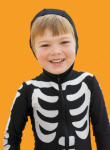 Some 148 million Americans are expected to take part in Halloween celebration this year, the National Retail Federation reports, with total spending expected to reach $5.8 billion.
That's good new for retailers looking for bright spots in a still-slow economy.
"In recent years, Halloween has provided a welcome break from reality, allowing many Americans a chance to escape from the stress the economy has put on their family and incomes," NRF President and CEO Matthew Shay said in a statement. "This year, people are expected to embrace Halloween with even more enthusiasm, and will have an entire weekend to celebrate since the holiday falls on a Sunday."
And retail spending on the holiday will be across the board: Costumes ($23.37) will take up the largest portion of a buyer's budget. Americans will also spend an average of $20.29 on candy, $18.66 on decorations, and $3.95 on greeting cards.