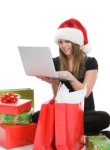 More consumers will do their holiday shopping online this year and a greater number intend to complete their shopping early in the season, according to a new survey from MarketLive and the E-tailing group, and reported by  InternetRetailer.com. Consumers also say they want retailers to vie for their business with discounts and promotions, the study found.
The survey of 1,000 online consumers finds 44% of respondents say they will do their holiday gift buying online, compared with the 37% who said so in last year's survey, MarketLive says. Some 39% say they intend to finish their holiday shopping by early December, greater than the 29% who planned to be done by Dec. 3 last year.
"Holiday shopping will happen a little early this year," says Ken Burke, founder and chairman of e-commerce service provider MarketLive Inc.,  which sponsored the "2010 Mindset of a Multichannel Shopper Survey" conducted by e-commerce consultancy The E-tailing Group. "The stock issue [low inventory levels last year] has made shoppers more hyper-sensitive and is pushing them to buy earlier," he says.