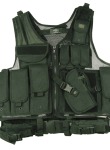 With the ongoing interest in this country in both airsoft and paintball guns, 3L International is well situated to help retailers cash in on this growing craze. The company carries an extensive line of tactical gear, holsters, vests, headgear, scabbards, belts, slings and more for both the enthusiast and professional alike.
"We found there's a huge market for paintball fans looking for good quality stuff at reasonable prices," says Wen Bin Lin, founder of 3L, but his market is growing in new directions as well. Lin was selling mostly to the airsoft user when he began getting inquiries from gun show vendors, asking if he had any holsters they could buy. Because of their realistic look and size, the holsters used for airsoft pistols were also suitable for real guns, so Lin started reaching out to that market as well.
His company has grown in recent years, and 3L now carries between 700 and 800 different styles and colors of product, with the full lineup available at 3L-intl.com. "We sell to everyone," Lin says, "including flea market vendors, small store owners, gun show vendors and even e-retailers." The company has a $100 minimum order limit, but gives a 5% discount to first-time customers. There is an additional 5% "continuous order" discount, and the same 5% off offered for orders over $500 and $1,000. 3L is also the exclusive U.S. distributor for the TaiGear brand.
For More Information:
3L International LLC
2429 S. 51st Ave., Suite 10
Phoenix, AZ 85043
Toll Free: 866-683-5888
Website: www.3L-intl.com