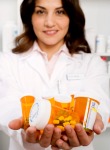 Independent pharmacies last year were able to withstand the recession, the growing influence of government healthcare programs, falling prescription drug reimbursements and an ongoing battle with pharmacy benefit managers, according to the National Community Pharmacists Association.
In an online report at DrugStoreNews.com, the NCPA says the owner-operated pharmacy industry found independent operators "able to generally stabilize their business" despite a daunting slew of challenges.
"The NCPA Digest findings demonstrate that an independent community pharmacy business model that is adaptable, yet rooted in sterling customer service and competitive pricing, has a viable place in today's marketplace," Doug Hoey, NCPA acting EVP and CEO, told DrugStoreNews. Pharmacy owners, he added, succeeded last year "by diversifying their revenue streams through providing convenient patient services, such as immunizations, and helping patients manage their prescription costs and medication regimen in a down economy. As a result, after a sharp drop in the number of pharmacies in 2006 when Medicare Part D went into effect, the number of independents has generally stabilized and grew modestly."
The full story can be accessed HERE.