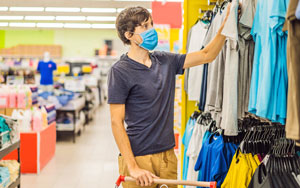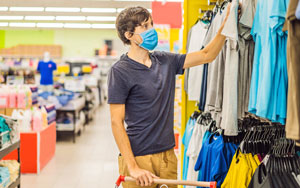 by Tom Ertler
A recent Bloomberg article predicts that even though the U.S. economy is set to reopen soon, the peak shopping season could be filled with "lumps of coal." This is a festive metaphor that no retailer wants to hear.
However, after many months of relying solely on online shopping, many shoppers are itching to get back into stores to browse and buy. But here's the catch: in order for shoppers to feel safe returning to your brick-and-mortar, your business must intentionally protect your shoppers, employees and brand.
If the thought of the impending peak season in the midst of this unconventional year has brought out your inner Grinch, not to fear. Here are four tips to show the public that you are reopen ready, not only now but for the upcoming holiday rush.
Use Professional Signage to Promote Social Distancing
Although floor signs have been around for years to notify people of slip-and-fall hazards associated with slick floors, today's beneath-your-shoes signage reminds folks to keep 6 feet apart while shopping and standing in check-out lines. But if your signs are hand-scrawled or taped to the floor (or walls or doors) carelessly, this does not bode well for your brand.
Floor signage aside, anything you post should be done purposefully and professionally to extend your brand. For example, following its months-long closure prompted by the threat of COVID-19 exposure, the Rock & Roll Hall of Fame reopened. Not only did it lower capacity but displayed professionally done signage requesting visitors to stand two guitar-lengths apart – so much more on-brand than the standard "stand 6 feet apart." Further, it created signs featuring Hall of Fame inductees like Sting, lead singer of The Police, that said "Don't Stand So Close to Me," which was a number-one hit in 1980.
So, think like the Hall of Fame and come up with ways to promote social distancing that incorporate your brand. If you are an apparel store, for instance, consider something like, "Nice List Rule #1: Only Touch If You Plan to Buy."
Eliminate as Many Touch Points as Possible
In fact, since consumers are concerned about the number of people allowed in at once, think about copying measures taken by restaurants and drug stores: allow shoppers to make "reservations." Point people to your website to secure a time to shop or provide an app for reserving a dressing room. This not only eliminates standing in lines before entering but shows people you are limiting the number of shoppers permitted inside at once.
Another way to eliminate touch points is to encourage buy online, pickup in store (BOPIS) – a shopping method that has gained serious traction lately. It has the dual benefit of giving consumers a chance to get out of the house while reducing heavy traffic within your store. If your store hasn't had a strong BOPIS process before, this holiday season could be a great time to give it a try.
And finally, a holiday tradition that's not social distancing approved: pictures with Santa. Think about coming up with new ways for children to get their annual facetime with Mr. Kringle. Instead of sitting on Santa's lap, you could set-up virtual visits to the North Pole by scheduling one-on-one virtual call sessions with Saint Nick to promote social distancing. Whatever no-touch or low-touch measures you put in place, try to infuse holiday cheer.
Embrace the Awkward – Take a Stance
Right now, even wearing a mask in public has become a political hotbed. However, retailers should take a stance and stand behind their rules.
Think about many airlines' requirements for passengers to wear face masks on flights. Some have even threatened to put non-compliers on "do-not-fly" lists, which although much-debated, shows the passengers they are trying to help reduce the spread of coronavirus.
Some shoppers will inevitably not take too kindly to your rules, but it's important that as a company you make a choice and see it through. And it certainly doesn't hurt to take the cheeky route with signage, like "No shirt, no shoes, no mask, no service," or "Avoid the naughty list by wearing your mask while here."
Do Away with the Negatives
While promoting social distancing, there's an opportunity to remove the pain points of holiday shopping and overall make it an easier, more positive experience (rather than a negative one). One example is the dreaded long checkout lines, which can often be avoided by providing self-checkouts or having unified (single-line) queues instead of multiple checkout lanes.
Unified queues, even when consumers are six feet (or two reindeer) apart, can bring an increase in impulse sales, while reducing people standing in your walkways. Think about the last time you picked the "wrong" checkout line – one that looked like it would move fast but did not. Unified lines promote social distancing while alleviating the need to guess which line might be the quickest.
Think, too, about offering free in-store Wi-Fi, which could help make standing in lines, which is sometimes unavoidable, more palatable for shoppers.
Safety and Holiday Shopping: the New Milk and Cookies
Although this year's peak season will be undoubtedly different, putting social distancing measures in place as you prepare for retail's busiest time doesn't have to illicit a resounding "bah humbug!" In fact, it will most likely pay off with many consumers. Some of the steps you can take include investing in professional signage to promote social distancing measures, eliminating touch points when possible, implementing safety measures — and enforcing them, and reducing as many negatives, like long lines, as possible.
Lastly, remember to stay on brand and promote holiday cheer along with social distancing measures. After all, safety and holiday shopping can be the new milk and cookies (we've virtually confirmed with Santa).
Tom Ertler, LEED AP, is the SVP Creative Director at Miller Zell. He is a retail designer and creative director focused on brand development, graphic communication, environments design, and implementation (A&E). His career spans over 30 years and is distinguished by industry awards and, more importantly, industry results for some of the best-known brands in the world as well as emerging brands.