By IvyLee Rosario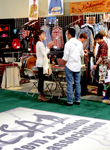 Perfect for the horse and the rider, the Denver Market has everything western that retailers are looking for. From September 11-13, 2015, experience the one stop shop for all Equestrian needs such as saddles, western apparel, home accessories, outdoor gear, rodeo equipment, footwear and more. "This is not just your typical horse show," said Amy Dill, Executive Director of the Western and English Sales Association (WESA). "We have a lot of different events going on for both our exhibitors and visitors. We have the benefit golf tournament the day before, which is in its 15th year, we have business seminars, an opening night cocktail party, casino night and more. There is something going on every night."
The Denver Market show will have exhibitors, manufacturers and sales representatives for all things western, expecting close to 400 returning exhibitors and over 100 new ones for the September show. Not only is this a national show, but there are international visitors as well. There will be 17 foreign countries represented, in addition to 34 U.S. states, making for a total of up to 1,200 attendees. "This show has a very laid back atmosphere," said Dill. "There is a lot of cross over in product, so anyone can come and find the items they are looking for." So far there are 693 product lines being shown and 540 stores attending, both foreign and domestic.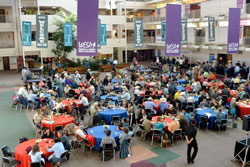 If taking part in the show for the first time, Dill has some tips to share on how to make the most of your time at the Denver Market. Once pre-qualified to attend, use the show directory to create a game plan for your time. "There is a lot of walking, so if some attendees are not used to that, it is best to have a plan for what you want to accomplish at the show. We recommend calling ahead to schedule appointments with the exhibitors with whom you want to do business. From that point, use the directory and figure out what events you want to attend, that way, upon arrival, there is no other work you need to do but walk in."
To qualify for the show, attendees need to submit a copy of their sales tax license, a business card with their names and business name, and at least three invoices showing quantity purchases for the business. Potential visitors can send in their documents until August 21, otherwise they will have to bring the information with them upon arrival. The Western and English Sales Association guarantees a response within 24 hours of receiving the paperwork on whether the attendee is qualified or not. If pre-registered, they will mail the badges in advance so participants do not have to do anything else once they arrive. WESA also provides hotel accommodations for guests of the show at several hotels nearby. For more information on the upcoming September show or next years January 15-19, 2016 show call 303-295-1040 or visit www.denver-wesa.com.