By IvyLee Rosario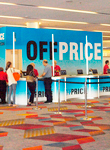 With more than 1,200 booths of quality merchandise at up to 70% below wholesale costs, the OFFPRICE show is the go-to destination for companies in the apparel industry. With the Las Vegas show fast approaching from August 15-18 at the Sands Expo and Convention Center at the Venetian/Palazzo, we take a look at some long time exhibitors and find out why they sell merchandise at OFFPRICE, what the show has to offer and what both retailers and wholesalers can learn from attending.
Due to the OFFPRICE show being both a domestic and international destination, exhibitors see it as a great opportunity to connect with clients they have never met before, or do not get to see often, as well as picking up new customers from all over the world. "We have a large customer base that attends the show and we tend to pick up a number of new clients there," said Dennis Schulman, owner of Encore Apparel (www.encoreapparel.us). "We get the opportunity to connect with customers that we normally would not have contact with. This show is always successful for us." Retailers from all 50 states and Puerto Rico attend the OFFPRICE Show. Buyers travel from around the world to find the best values under one roof. Just some of the countries represented at the show include Brazil, Canada, Honduras, Aruba, Finland, Belgium, Greece, Ireland, Norway, Spain, the UK, Australia and many more. Some exhibitors entrust so heavily on the show that they have had a booth at each one since it first started. "We started going early on. One day we decided to try it out and it worked for us," said Mark Manshoory, owner of Gazoz Inc (www.gazoz.com). "Now we have been doing the show for almost 20 years. We have been exhibiting since the fifth one."
From apparel and footwear to accessories and jewelry, all available for 20%-70% below the wholesale price, it is easy to see why so many make the OFFPRICE show a must-see. Known for its vast array of exhibitors and booths, the show offers business owners a great opportunity for networking and finding deals, as well as offering assistance to those who are attending for the first time. "Buyers should learn to dig deep, do not dismiss any vendors," said Top Iyoha, owner of TBI Apparel (www.tbiapparel.com). "Go inside the booth and see what they have to offer. Do not judge any vendor by the cover, get inside and see the hidden gems." The show also offers consumers the chance to get to learn how the show operates with the help of an expert, assisting them in their search for specific items for their retail store. "They bring new buyers around as a tour," said Schulman, "zero in on what they are looking for and delivers them to exhibitors at the show that sell those particular products."
With years of experience as exhibitors at the OFFPRICE show, many wholesalers can still say they have learned a thing or two that has helped their business. "It is always important to keep up your image at the show. How you represent your booth, clothing, deals, stock – it is all about how you show yourself to the buyers that will make them want to do business with you," said Manshoory. In addition to presentation, exhibitors should also keep their product interesting by selling a mix of items capable of reaching out to a number of attendees. "Your show success is dependent on the mix of items you have to offer," said Iyoha.
When you have a growing business, the search for new products with low price points can be a difficult search. Fortunately, this hunt has led many companies all over the globe to the OFFPRICE show. By attending, you give your apparel business a chance at even greater success by finding unique items at some of the lowest prices, meeting new wholesalers with distinctive merchandise, and growing your knowledge of the apparel industry. For more information on the OFFPRICE Las Vegas show, visit www.offpriceshow.com.