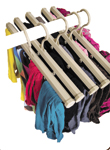 As Smithsonian.com explains, "Since the late Allen Gant Sr. introduced the first pair of pantyhose in 1959, his descendents have watched the garment move from high fashion to optional accessory. Three generations of women have now experienced waist-to-toe stockings, and few would be surprised to discover that a man invented pantyhose. But here's the twist, it was at the request of his wife." The Hosiery Hanger is also an invention dreamed up by a husband and wife, and sold to a father-daughter team, Barry and Caitlin Mann, for mass marketing. Whether your customers are old-fashioned socialites still toting around high fashion pantyhose, or perhaps one of today's leggings obsessed teens, the Hosiery Hanger is a perfect solution to stay organized without destroying any delicates.
Hosiery Hanger Keeps Delicates Organized and Safe
The slim plastic hanger saves on closet space, while the velvety elastic bands attached to each side hold everything in place without snagging or wrinkling. The elastic bands held on by rivets create four slots on each side of the hanger, holding up to eight pairs of tights, eight scarves, 16 pairs of pantyhose and other items such as lingerie, bras and swimsuits. "An additional feature for when you're in a rush and pulling items from the hangers, is the elastic allows for easy removal but keeps all other items in place," says Caitlin Mann, director of marketing. "The hanger is perfect for women's or accessory boutiques, gift stores, lingerie stores and more."
Serving a dual purpose, the hanger can be displayed with other products such as scarves or leggings offered in the store, or retailers can showcase the product in a floor display holding 24 two packs. The display is free and only takes up about two square feet. "Retailers are expected to order a minimum of 12 two packs, so the display works perfectly to help market the product," adds Mann. Wholesaling at $7.50 a two pack, retailers can expect to make keystone with a suggested retail price of $14.99.
For more information:
Hosiery Hanger USA/BAM Marketing USA, LLC
3391 W. Oquendo Rd.
Las Vegas, NV 89118
Toll Free: 800-440-4982
Website: www.hosieryhanger.com