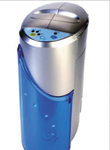 In recent years, there has been increased awareness of green products and natural healing. People are taking action to save the planet, exploring its natural elements, and understanding their associated benefits. Assisting in the attainment of a more organic lifestyle, O2 Innovations, through its personal oxygen bars, is committed to promoting the power of oxygen and its ability to revitalize and rejuvenate. The life-giving component, oxygen, is something we take for granted on a daily basis. Today, we inhale roughly 78 percent nitrogen, 21 percent oxygen, and .9 percent argon, with the remaining balance being other gases and a growing number of pollutants. The O2-B Personal Oxygen Bar helps in purifying this air, separating oxygen by using Pressure Swing Absorption Technology. The process centers around a molecular sieve. As air is introduced, it passes through the sieve and nitrogen is absorbed. The remaining oxygen (41 percent) is piped to a buffer or surge tank, and oxygen is released.
Personal Oxygen Bar for Customers Looking to Relax
A perfect product fit for spa boutiques, salons, alternative healing shops and many other independent businesses, the O2-B Personal Oxygen Bar was created to bring affordable, non-prescription oxygen to a customer base looking to improve health and well-being. The O2-B, uses a regular electrical outlet, weighs 15 pounds, and uses no tanks, water or refilling, promising no hassle and easy transportation. "There is a state of the art headset accessory that provides an aromatherapy journey, in tandem with the oxygen bar experience. And for those seeking an oxygen only experience, there is the option to use the electric blue nasal cannulas," notes Maryrose Snopkowski, marketing representative for O2 Innovations. "By using our O2-B Personal Oxygen Bar on a regular basis, you will find that oxygen is beautiful."
For the price of beauty, retailers can expect to pay $389 wholesale per unit, with a requirement to meet a three unit minimum. Retailing for $629 a unit, a profit of keystone can be expected. And for an additional discounted purchase, O2 Innovations provides store owners with a variety of marketing materials which include, brochures, sellsheets, posters and more. "The O2-B unit is state of the art, and we are excited to bring it to the public at an extremely affordable price. Oxygen bars charge $1 per minute. Now, the benefits of oxygen can be experienced at less than $0.30 per day, using the O2-B Personal Oxygen Bar," emphasizes Snopkowski. O2 Innovation not only provides the unit for personal use, but by offering a variety of relaxation CDs and a comfortable, easy to use headset with soothing aromatherapy, the company has brought a truly personal and spa-like experience to the retail market. The entire O2-B Kit includes the unit, headset, five nose hoses, a set of relaxation CDs, one aromatherapy oil, cover and extra filters.
For more information:
O2 Innovations
600 Luzerne Ave.
West Pittston, PA 18643
Tel.: 866-432-0202
Int'l. Tel.: 570-655-3700
Email: contact@o2innovations.com
Website: www.o2innovations.com