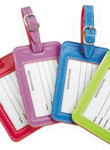 With around two billion domestic travelers in 2011, travel accessories manufacturers and wholesalers such as Naftali, Inc. have found a profitable niche in the travel merchandise industry. Whether travelers are one of the 453 million hitting the tarmacs for business, or one of over a billion departing for leisure, they are bound to endure a certain level of stress. It is accessories like Naftali's 500 skus that provide comfort, convenience and security in the hectic environment at the airport or train station. And with a little over seven billion dollars being spent on travel for the year, consumers are looking for accessories to fit within their travel budgets, such as Naftali's $5 to $25 merchandise.
Travel Accessories for All Traveling Methods
For a low wholesale cost of $1 to $9, along with the help of an eye-catching POP display, retailers can realize profits on some of the best-selling travel merchandise. Among the well recognized product categories in Naftali's catalog are luggage finders and luggage locks. The company has raised the bar on finding luggage with the patented Easy2Pick Wireless Luggage Finder System, created to reduce stress and simplify the process of locating luggage or missing items. Easy2Pick is the only wireless device that beeps and flashes from a remote receiver that can attach to a keychain, and alerts the traveler when the tag is within 100 feet. The simple one-touch operation and comfortable carrying size makes Easy2Pick very convenient, and the battery is good for up to 100 hours and is easily changed.
Another option to help travelers retrieve luggage is the Easy2Pick LED Luggage Finder System, another patented electronic device that uses the latest LED technology so travelers can pinpoint bags from a distance. Four different LEDs flash a selection of sixteen fully customizable color combinations. "The simple design of Easy2Pick LED Luggage Finder makes it effective in tracking a variety of objects, including camping equipment, tool and equipment cases and bags, and most other case or bagged items. Whether traveling by boat, bus, car, train or plane, it makes the trip less stressful and more efficient," says Yosi Naftali, president.
Travelers aren't the only ones concerned about the safety of their luggage in transportation hubs. Security is increasing, as we face daily threats both domestically and internationally. Naftali's newest line of Travel Sentry Approved (TSA) locks provide travelers with peace of mind and airport security convenience during their routine luggage checks. "Each TSA lock has a special identification mark alerting the TSA and other airport security agencies that they can open this lock without destroying it," explains Naftali. "Each of these locks has a special code, which is used by the TSA and other security agencies to know which tool to use to open the lock." Every security screening location at all U.S. airports, and now many international airports, is able to open the lock and then relock it after inspection.
These products, as well as luggage straps, pillows, luggage tags, chargers and more, are available for a broad range of retail stores, including travel shops, luggage stores, gift shops and pharmacies. With the two-sided floor display, featuring an LCD screen for product video, wheels for easy transportation, and two sides to hold the hottest selling merchandise, retailers who want to begin carrying travel accessories can do it with one single purchase. Available for $1,600 wholesale, the fixture promises a return of $3,500 to $4,000 retail. "It is durable, attractive and can easily be replenished after all the merchandise has sold," notes Naftali. "A PDF catalog is available on the website to browse, and while our customers are there, retailers, wholesalers and distributors alike should feel free to use the online shopping cart to make their wholesale purchases."
For more information:
Naftali Inc.
20432 NE 16th Pl
North Miami Beach, FL 33719
Tel.: 305-653-1335
Website: www.naftaliinc.com