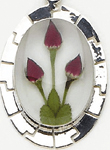 Flower bouquets often are given as a token of affection for special occasions such as birthdays and anniversaries, or perhaps as a way to make amends. Yet the average life span of cut flowers is only about a week, with longevity varying depending on the type of flower. Now there is a better way to enjoy the floral beauty of the outdoors, with a gift that will last as long as the sentiment: Natural Flowers Jewelry. Fiora Jewelry offers several jewelry collections straight from the greenhouse. Natural Flowers Jewelry is a 100 percent handmade product, featuring real miniature flowers grown using a Bonsai technique. The natural miniature flowers are then preserved in Acrylic resin within a beautiful sterling silver (.925) setting.
Fashion Jewelry Featuring Flowers
All 24 varieties of miniature flowers are grown in company owned greenhouses, and tended by dedicated gardeners. After about two months of cultivation, "Our master silversmith directs a team of talented artisans in producing each piece of jewelry by hand, which is then sent to our artisans who create the miniature floral compositions," says Miguel Viniegra, product manager for Fiora Jewelry. "We are capable of creating and producing any design or specification, for any specialized market that our customers may desire. We have a large experience of encapsulating different types of materials with Resin, like logos, pictures, paintings, seeds, bugs, and shells, and we are open to developing a new line with requested materials and designs." Currently, the wholesaler supplies to a broad category of independent retailers, including gift shops, garden stores, and jewelry storefronts.
Along with an accessory type for any style (i.e., ring, necklace, bracelet), Fiora Jewelry also showcases numerous collections for any greenhouse preference. The Multiflower Collection is a mixture of miniature flowers in beautiful compositions, and is the most colorful among the collections. The Roses Collection features a miniature rose that takes about three months to grow. There is also the Four Leaf Clover Collection, one of the top sellers. "We grow these tiny clovers with a Bonsai technique to ensure the right size, quality and beauty," says Viniegra. Wholesaling between $15 and $35, retailers can expect a 150 to 200 percent markup.
Other special features offered by Fiora Jewelry include a POP display, holding an assorted variety of 48 pieces. While no minimum order is required, this offer works best for new customers looking to test the market. The 48 pieces supplied will be among Fiora Jewelry's best sellers. "Whatever the retailers don't sell, they can send back and receive a credit," notes Viniegra.
For more information:
Fiora Jewelry
Tel.: 281-764-1940
Fax: 817-668-4133
Email: Use form online
Website: www.fiorajewelry.com, www.flowersjewelry.com