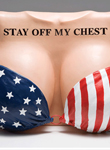 The cooler, or ice chest, has become a staple in preparing for any picnic, beach outing, camping trip, and those occasional power outages. A temporary cooling house for refreshments and snacks, coolers are a must have for group gatherings. But far too often, the ease of accessing the ice chest's contents is plagued by friends who forgot their lawn chairs or someone too lazy to sit on a beach towel, turning the cooler into a seat. Ice Chest Toppers are a novelty item that teach people to stay off anyone's cooler. Shaped as the chest of a woman, in eight bikini top designs, Ice Chest Toppers are a fun and entertaining way to deter those unwelcome sitters on top of your cooler.
Novelty Product with a Purpose
Made from a hard rubbery plastic, each Chest Topper is soft to the touch, but is rigid enough to hold its shape. A self adhesive Velcro is attached to the flat back of the product and on the top of the cooler for application and use. "The Velcro must set for 24 hours, and then it is ready for use for the next outing," says Toby Zang, director of sales. "It's a novelty product for people who don't take themselves too seriously. It doesn't just deter people from sitting on the ice chest, but by applying different designs to different coolers, it can help the group identify what's in each cooler." The company is looking to add new designs, which include the popular camouflage and Stars and Stripes. "We are even looking into licensing. We'd like to do NFL or college football designs, using a football player's chest, sporting the pads and numbers and perhaps school colors," notes Zang.
The display rack is as much a novelty product as the Ice Chest Toppers themselves. It is a wire rack that comes in either black, white or stainless steel. There are legs and feet at the bottom, and arms that can be positioned in any way along the side. The rack holds the clamshell packaging, with each Ice Chest Topper and a complementary key chain of a chest in a different bikini design. "For now the minimum is at least 20 pieces. However, a rack is provided for free if a retailer purchases $1,500 worth of product," says Zang. The wholesale price range averages around $15 per unit, and is discounted based on quantity purchased. Retailers can expect to sell for no less than $19.95, with a suggested retail around $24.95.  "Nobody will be mad when you use the product to let people know, 'Stay off my chest,'" explains Zang.
For more information:
Ice Chest Toppers
Tel.: 406-581-8629
Website: www.icechesttoppers.com