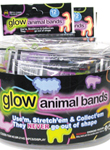 A new kids' jewelry product has twanged and snapped its way into a genuine youth fad. Rubber band bracelets, known collectively as, "bandz," are the latest hot craze to pique the interest of the 12 and under set, although there are reports of high schoolers and even college kids getting in on the action. The bracelets are not really rubber bands at all, but silicone loops molded into a variety of shapes, from animals to musical instruments to bathing suits and many more. When worn, they look like bumpy bracelets, but they revert into shape when taken off.
Since mid April, the media buzz around the fad has exploded, with articles in The Philadelphia Inquirer, The New York Times and many more. Based on media coverage so far, it seems that the craze started in the Mid-Atlantic States and still has room to spread. Recently, eight of the top ten bestselling toy products at Amazon were bandz. One variety has spent 72 days in the Top 100.
"This thing is like a hot fad that's incredibly hot," says wholesaler, Jeff Sokolofff, president of Novelty Gift Company. "As soon as we get a shipment, every week or ten days, it's just gone in a matter of a day or two. We think it will last for the whole year and for Christmas." Sokoloff says that bandz came out in November and December of last year. It took about two months for the craze to catch on. "Now they trade them like trading cards. It's working out to be a really strong item."
Bandz come in every color, including neon hues, with versions that are scented, sparkle, and (the most coveted) glow in the dark. Sokoloff reports more varieties are on the way. "In July they are coming out with licensed bracelets," he says. "There are Disney ones coming out, plus Toy Story 3, Princess, and Cars." At Novelty Gift, the product is selling at a wholesale price of $1.50 per pack. That translates into suggested retail price of about $3 to $4 per pack, says Sokoloff. For information about starter packages, please contact Novelty Gift Company.
For more information:
Novelty Gift Company
81 North Forest Avenue
Rockville Centre, NY 11570
Toll Free: 800-648-4818
Tel.: 516-561-1378
Website: www.noveltyposter.com