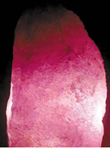 E-klectix is offering a new color variation on its Persian Salt Lamp product. The lamps, carved out of rock salt mined in very few places in Central Asia, consist of an incandescent bulb placed in a carved hollow within the rock lamp. When the lamp is on, light shines through, revealing the color of the lamp. "Orange and reddish lamps are called Himalayan lamps," says company owner, Pat Wright. "The new purple ones come from Iran. We ran this by U.S. Customs. They are rare, extremely beautiful, and people are drawn to them."
The company touts not only the aesthetic quality of the product, but also its health value. "A very special part of the product is not only its beauty, but that it is a natural air purifier. It increases negative ions in the air to reduce allergens and irritants," says Wright. The heat from the bulb is an essential part of the ionization process, so LED or low power bulbs will not create the same result. The standard lamp product is mined from the edge of the vein, so it includes areas that are white. The premium product is from the heart of the vein, so the color is complete. After being mined by hand, the rock is flattened and a channel is bored. E-klectix adds a finished wood base, bulb, dimmer switch, and a fully tested, six foot long UL-listed cord.
"We're selling to mostly small businesses," says Wright, "including wholesale over the web to anyone. The best wholesale price goes to those who sell a range of lamp colors." Buyers should contact the company for wholesale prices. The standard quality lamps range from $55 to $125 each at retail, based on size, and the premium quality lamps are $115 to $355. No starter kits or special deals are available.
For more information:
E-klectix
8539 Monroe Road
Charlotte, NC 28212
Tel.: 704-451-4290
Website: persiansaltlamps.com