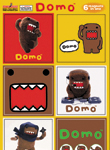 Hot Properties Merchandising, Inc., an entertainment licensing company founded in 1998, supplies a variety of licensed novelty products at wholesale prices about $10 or less. The obsession with characters and stars of today's popular culture drives people to accessorize their lives with these novelty items. For example, Hot Properties offers Family Guy talking pens, individually priced at $4 wholesale, and retailing between $6 to $10. Currently carrying a plethora of novelty items ranging from buttons to key chains, antenna toppers, stickers, lanyards, wristbands, coffee mugs, fuzzy dice, and more, Hot Properties continues to expand on its novelty product lines.
The company currently holds entertainment licenses for TV favorites, including The Simpsons and Adventure Time, among other global television entertainment brands like Domo. Hot Properties has also acquired licensing rights to movie blockbusters such as Transformers, along with viral YouTube video stars like Fred, an amateur film star with more than 2.5 million hits. Although interest remains in classic television characters, Hot Properties assures independent retailers that it also carries novelty items for those fans of short-lived, craze-driven reality stars. Jim Tsukahira, president of Hot Properties, confirms, "We always follow the latest trends. We manufacture stuff for reality shows and YouTube, like the Jersey Shore or Rebecca Black."
Tsukahira confirms, "We have numerous product lines, but magnets are by far the top seller." In fact, every entertainment license in the company's wholesale catalog carries a magnet product line. Even the newly acquired Domo license carries two popular magnet collections at a wholesale price of $3.50 and $5. Generally, Hot Properties' metal magnets can be bought at a wholesale price of $1.85 and resold at a suggested retail price of $3.99. Other wholesale prices include acrylic keychains (2"x3") $1.75, metal buttons at $0.60, and vinyl stickers (3.5"x4") $1.00, with suggested retail prices marked $3.49, $1.19 and $1.99 respectively. Orders placed must be a minimum of $150.
Among other hot sellers, the Family Guy licensed talking pens can be purchased as a 48 piece assorted talking pen package. They are available with four individual displays holding 12 pieces per display, which includes six Stewie, two Peter, two Brian and two Quagmire talking pens. This Talking Pen Package is sold at a wholesale price of $180. Another customer favorite, the "it's happy bunny" licensed magnets, are priced individually at $1.85 wholesale and sold at retail for $3 to $5.
Hot Properties supplies on a regular basis to independent retail gift shops, as well as a few chain stores, including Hot Topic and Spencers. Tsukahira mentions that the company is looking to further grow its customer base with more brick and mortar retailers, as well as those retailers that have expanded their business between five to fifteen stores. Retailers who purchase Hot Properties' novelty merchandise can receive associated POP displays. Tsukahira urges that interested retailers, "Check the website frequently, as product lines and licenses are added regularly."
For more information:
Hot Properties Merchandising Inc.
P.O. Box 453005
Los Angeles, CA 90045
Toll Free: 800-733-4827
Website: www.hotmerch.com