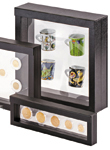 U.S. branch manager of Lindner, Matt Patterson, is immersed in a world of collectors, and explains that 20 percent of Americans collect some item or other. Whether a collector of stamps, coins, medals, banknotes or other objects, the primary duty of a collector is to safeguard the objects that may have monetary, personal or cultural significance. A collector's passion is to collect objects and preserve or enhance a collectible's value, while frequently finding joy in showing it off. The presentation and storage of a collector's collection is a fundamental part of the passion, and the Lindner product portfolio offers a wide range of possibilities and essential accessories to aid collectors in their hobby.
The Nimbus Frame, Lindner's newest display and storage product, was originally conceptualized as a jewelry display, but quickly proved its worth in storing and protecting almost any collection. Patterson details the collection system, saying, "The design is a pressed wood frame that comes in eight sizes and shapes, each held together with the magnetic closure." The selling point of the collection system, however, is its silicone membrane screen, holding the collectible in place. As Lindner's website describes these screens, "The special feature of these frames are two transparent, flexible silicone membranes, which surround your exhibition items softly and create the impression that they levitate inside the frame." Delivered preassembled, collectibles are stored, protected and "levitating" with a snap of the magnetic closure.
The Nimbus series offers a new stage for your collectible items, such as jewelry, coins, writing utensils, watches, etc. Only a few items are not well suited for the frames, Patterson explains. "Stamps and papers due to their thickness may not holdup well in the display frame," he says. Although no two collections are the same, millions of people share the passion for collecting, and Lindner has had no problem in marketing to toy collectors, coin collectors, jewelry shops, and hobby shops. Offered at a wholesale price of $4 to $6, the Nimbus frames can be sold at a suggested retail price of $9.99 to $99.99. As Lindner is taking on new customers every week, the company suggests case orders are preferred, and volume discounts are based on bulk. Lindner declares a mission to support the collectors' passion with the right collecting system.
For more information:
Lindner
P.O. Box 5056
Syracuse, NY 13220
Toll Free: 800-654-0324
Website: www.lindner-usa.com