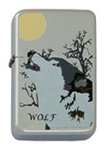 Kirk Bachelder, president of CTS Wholesale, boasts an impressive 29 years experience in the sunglass business, but it is his familiarity with the retail and wholesale industries that makes him such a successful supplier. "Our main mission at CTS Wholesale is to help new entrepreneurs or business owners succeed in the sunglass business," he says, and that means more than supplying today's hottest styles and fashion trends. "We have everything it takes, from displays to accessories and much more," he adds. In fact, Bachelder has become so confident in his wholesale sunglass operation that he has ventured into supplying other merchandise such as hats and his new oil lighters.
Designer Sunglasses and High Quality Lighters
Keeping up with trends and following through with customers has proven to be a successful business model for CTS. For instance, sunglass suppliers have experienced increasing difficulty in providing popular styles and designer products, as well as competitive pricing: However, CTS Wholesale offers a Designer line that gives retailers the ability to stock designer styles, such as aviator and wayfarer sunglasses, at affordable prices. The selection wholesales for $8 to $36 per dozen, with an average wholesale price around $20 per dozen. Bachelder notes, "Carrying the CTS Designer line means providing your customers with fashion-forward attitude, without the price tag. Keeping these great shades in stock means having the most desirable merchandise on hand and available for immediate sales." Without a minimum order, retailers are also given the opportunity to verify the quality of CTS Wholesale's sunglasses before placing a larger order. "We know that our products are top quality, and once our customers and their customers have the opportunity to see them, they will too," says Bachelder.
This reassurance of high quality, low cost and hot trends is also offered in CTS Wholesale's line of oil lighters. "CTS is excited to introduce our new wholesale oil lighters. Our new line is windproof, refillable, but best of all, they are affordable. We are the direct importers of these lighters, and with prices starting at only $12 per dozen, retailers can make a great profit on a great item," says Bachelder. Similar to the wholesale supplier's line of sunglasses, its lighters also comes with additional offers of accessories and displays. "Each dozen order of wholesale lighters come with a display box to assist in retailing," confirms Bachelder. And while the showcase and novelty design of the lighters may attract customers, it is the windproof capability of the oil lighters that helps in making the sale. Most smokers have suffered the frustration that comes with lighting up in windy conditions, even just a slight breeze. While oil lighters are most commonly known to be hard to use in windy conditions, and usually visually plainer than butane lighters, CTS Wholesale has decided to redefine the oil lighter market with rich metal designs and enhanced capabilities.
Bachelder proudly states, "I guess you could call me an expert in the field of sunglasses," but is making strides to make a name for himself in other wholesale markets. For CTS Wholesale, it's about satisfying the customer. "Customers of CTS Wholesale can be assured that our staff has first hand knowledge of not only the product, but the venues in which they sell. It is with this understanding of the industry from both sides that lends itself to our dedication to customer service, prompt shipping and low pricing," he adds. Bachelder takes pride in selling and shipping to many different types of retailers, including gift shops, convenience stores, mall kiosks and more, and believes his products are marketable in any venue.
For more information:
CTS Wholesale, LLC
3525 Brady CT. N.E., Salem, OR 97301
Tel.: 503-364.3486
Toll Free: 800-796-3486
Website: www.ctswholesalesunglasses.com