by Meaghan Brophy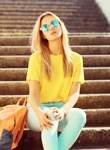 Summer is right around the corner, and warmer weather will soon be upon us. Although the higher temperatures have not yet arrived, buying season for spring and summer is in full effect. Take advantage of the seasonality by stocking up on weather-specific apparel and accessories. When the temperature rises, people can't wait to peel off the heavy winter coats, put away the snow boots, and let loose. This excitement caters perfectly to accessory and apparel sales, which are predominantly impulse buys for consumers. Maximize your profits over the warmer months utilizing the following products.
Summer Apparel Staples
Nothing says American summer better than a classic t-shirt. men, women, and children of all ages wear this apparel staple, without ever going out of style. This year, we are recommending trendy upgrades to the basic styles with these two featured suppliers: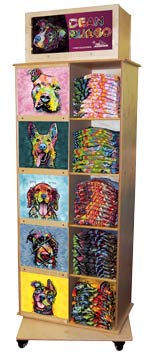 The Mountain: Clothing with a Cause
"The Mountain is very proud to be called the greenest t-shirt company in the USA," says Nicole Reynolds, Marketing Coordinator for The Mountain. For them "green means being mindful of our choices, which have a direct impact on the environment and future generations," continues Reynolds. All of The Mountain's garments start with white 100% natural USA cotton. To color the clothing, they use fiber reactive organic dyes. Their dye process allows for the waste water used to be recycled without any chemicals. To date, The Mountain has recycled 2.5 million gallons of water. The images on the garments are printed using water-based inks, instead of petroleum based inks like most screen printers.
The Mountain has many of their own best-selling designs by various artists picturing animals and nature themes. They also offer custom printing and namedrop services. With an increased demand for environmentally friendly products, and products made in the U.S.A., The Mountain's t-shirts meet both demands at a competitive cost. Adding these upgraded t-shirts to your inventory this summer provides a unique product that your customers will feel good about supporting.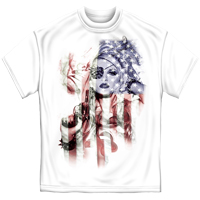 Show Your Patriotism with Erazor Bits
Though many patriots celebrate year-round, the warmer months and holidays provide extra opportunities to show off your support with American-themed t-shirts. Erazor Bits offers licensed military, tactical, and general patriotic apparel. Their most popular items include foil-printed t-shirts with "United We Stand" images. "Our t-shirts are on fire in the summer," says Kahlid Shehady, Owner of Erazor Bits. This year, the company has "90 new designs including fire, police, military, and general patriotic designs," says Shehady. We also have a new, licensed women's line called 'Homefront Girl.' It caters to women who have a husband or boyfriend in the military," continues Shehady. With their t-shirts retailing for up to $24, patriotic t-shirts in trendy foil prints are guaranteed to help boost sales in your store this summer season.
Like any impulse purchase, be sure to stock an assortment of colors and sizes of t-shirts. Assorted styles encourage customers to purchase these staples in multiples for themselves and their family members.

Seasonal Jewelry
Jewelry is worn year-round, however the styles and trends vary from season to season. Less bulky layers of clothing means more opportunity for fun and playful jewelry items. Necklaces and earrings will continue to be hot sellers. In addition, bangle bracelets, toe rings, anklets, and belly button rings traditionally gain popularity during the warmer seasons. For 2016 in particular, gold-toned jewelry and colorful statement earrings are the trending items. Discounts for bulk purchases work very well for jewelry items, too. Consumers often purchase jewelry to match different outfits and occasions. Advertising a discounted rate when a shopper buys 3 pairs of earrings, for example, will feed their impulse buy.
"The demand for mood and Americana jewelry is always high in the summer," says Cool Jewels® National Sales Manager Paul Meyer. "Rose gold and healing stones are new popular trends," continues Meyer. "In alignment with trends, we have brought in more rose gold, expanded our line of healing stones and crystals, and added new sea life and assorted animal trend jewelry." Though gold and rose gold trends are fairly universal, other specific fashions can vary depending on the demographic and location of your store. "If you're near a shore, sea life and shell jewelry will be more popular," explains Meyer. "Of course around the 4th of July, people show off their patriotism," says Meyer.
Jewelry is the perfect item for maximizing returns with minimal space. "At the end of the day, retailers are in the real estate business," says Meyer. "We typically recommend a 3x-4x markup from wholesale rates. Jewelry happens to be one of the best if not the best category in terms of profit per square foot."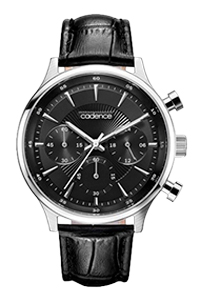 Warm-Weather Watches
Similar to jewelry, watches are worn year-round, though the styles change with the seasons. "For summer, people want something that is work to casual," says Cadence Watch General Manager Misti Moss. "Lighter watches with non-leather or nylon straps are big in the summer." Cadence's best-selling watches for summer include their Cambridge line, featuring a classic business face with lighter interchangeable nylon straps. Niche lines are also coming into the spotlight this season. Cadence released a superhero line. "Their inspired styles without being logo-driven," explains Moss. "Their bold colors that create the superhero look and feel."
Like all accessories, consumers have multiple watches for different occasions and different outfits. "A big misperception of retailers is that watches are a one-time purchase," says Moss. "Our studies show that the average customer has between six and eight watches. Even with smart watches, the tend is wanting to have various watches for various styles." The watch industry is a 43 billion dollar industry, creating ample opportunity for retailers everywhere to take advantage of these trends in their stores.
Sunglasses
Over 95 million pairs of sunglasses are sold in the United States each year, meaning every storeowner should be taking advantage of this opportunity. Over the past year, wayfarer and aviator styles have dominated the market. In 2016, these styles will remain major players with the addition of more retro styles. However, virtually everyone wears sunglasses, and every customer has a different face shape. With this in mind, it is important to have a wide variety of styles in order to cater to different customers. Sunglasses, like many accessories, are also impulse buys. This means that your display needs to be in a high-traffic, visible area of the store. Customers should also be able to try on and examine different styles in a mirror to encourage the buy.
Sandals
Sandals and flip-flops are a warm-weather essential. Similar to sunglasses, they are both a necessity and impulse purchase. Adults and children wear flip-flops on a daily basis for ease and comfort while running errands, at the beach, or out on weekend ventures. Most consumers have multiple pairs for different occasions and to go with different outfits. As a retailer, take advantage of the impulse buy by having a variety of colors and unique patterns. Since shoppers are almost always looking for a deal, offer bundling options with your flip-flops. Offering discounts for purchasing multiple pairs will encourage customers to "stock-up and save" on their summer staples, while helping retailers make more sales and move products faster.
When buying summer apparel and accessories for your store, keep in mind these two words: value and variety. Offering a good value or discount helps draw in the impulse buyers. Having a wide variety makes for a more attractive display, and ensures that you have something for everyone. Take advantage of ordering these warm-weather items to make sure you're receiving the best value for a profitable summer season.