By Jeffrey Cohen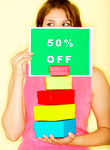 The offprice business remains one of retailing's fastest growing sectors. As an insider in this industry, I wanted to explain what I view as the direction this sector is taking, and offer hints on how you, as a retailer, can improve your bottom line.
Make it Fun
Stores now, more than ever, need to entertain the consumer. Sharp prices are not enough to sustain a consumer's loyalty, your retail store needs to be an arena of entertainment. You need to be imaginative about your store design and merchandising so that when the consumer leaves your store, they will feel great about their experience and will return. Remember, they did not just fall into your store, it was a desired destination for them to visit.
Price and Value
The era of conspicuous branding is over, making the off price business even more important in retail. The Millennial generation has now realized that flaunting someone's logo all over a tee shirt is no longer a fashion statement. Instead, what is required today is price and value. As Bob Dylan said, "the times they are a changing" in consumer patterns, especially as regards stocking your store with good quality merchandise that you can sell at reasonable prices.
The Opportunity is NOW
As a retailer, it is important to be thinking about buying forward, making your purchases for 3rd & 4th quarter merchandise as early as now, in the 1st quarter of the year. The 3rd and 4th quarters of 2015 were difficult for many apparel retailers due in most part to the very warm and unseasonable weather the entire country experienced. Added to this, the fact that the Millenniel's have been spending their dollars primarily on electronics, the floodgates are now open for great apparel buys.
There is a tremendous amount of merchandise in the market place, right now in the 1st quarter of 2016. Manufacturers and factories need to liquidate their 2015 merchandise in order to plan their production cycles for the upcoming 3rd and 4th quarters of 2016 and are motivated to move their products. This is a huge opportunity for retailers to find great pricing on all of this back-stocked inventory. With the prevailing economic conditions, it practically dictates that now is the time to make your advantageous buys. Remember, you really don't make your money on the sale, BUT ON THE BUY. The better your buy on the merchandise, the more flexibility you have in pricing it for sale in your store.
Have a great 2016, the opportunity is there for the taking!