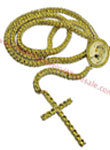 When it comes to fashion jewelry trends, it's all about bold and bling. Large crosses, bracelets and watches covered in stones, rosary necklaces and small pendants are all the rage today.
RC Jewels specializes in hip-hop jewelry, similar to fashions worn by popular artists like Soldier Boy and Jay-Z. The company tracks what the biggest hip-hop and rap stars are wearing, and makes similar styles available to retailers at affordable and profitable prices.  Micro pave jewelry is another hot trend in hip-hop fashion jewelry, and RC Jewels' pieces have hundreds of CZ stones per piece, set into the jewelry with prongs and not glued in. This micro pave jewelry is made of brass or sterling silver, with a thick rhodium finish for a long-lasting shine. Micro pave rings are always popular and are offered in around 15 designs, while earrings are available in more than 50 styles.
Spanish leather bracelet
Bright colors, especially in bracelets, are also maintaining their popularity. Neon accessories and multi strand/stackable bracelets are top sellers for 2013, heading into next year. Killerbeads wholesales a variety of mood, shell, leather, bone, hemp, cross and dream catcher jewelry. One of the company's hottest product additions is the reflective neon Spanish leather bracelet. Available in various multi-colored patterns, the bracelets reflect light and are popular for nighttime activities from jogging to night clubbing.  They enable consumers to say "look at me" in a fun way.

Name drop friendship bracelet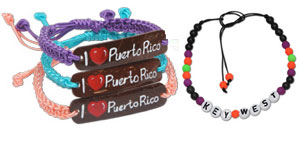 Another huge attention getter is name drop jewelry, and Monster Trendz is rolling out a new wave of friendship bracelets in this category. Available in four styles and a variety of colors, from neons to the new naturals, they are attractively priced at about half the cost of similar products. These items can be easily customized for every location on the planet, from San Francisco to Puerto Rico and all points in between. Monster Trendz has introduced 30 of the most popular locations to rave reviews. Paracord friendship bracelets with the name drop are another big seller, especially at tourist destinations, and have been extremely popular for a couple of years. Monster Trendz also recently expanded its line of regular bracelets, with the addition of nine new fashion styles. These include simple letter beaded, national flag color glass beaded and neon leather with laser etched names.
Crown collection of handbags & luggage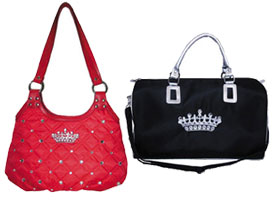 Another popular look in handbags is an offshoot of royals in the news. Kate Middleton is everywhere, and every girl wants to be a princess. Aliz International is responding with the Crown Collection, an extensive line of handbags and luggage which includes tote, hobo, satchel, clutch, duffle, garment and overnight bags, wallets and more. Made of synthetic leather, the collection is Aliz' exclusive crown print design, accented with rhinestones. The line is available in black, pink and purple, and is designed to celebrate lifestyles and femininity. The collection is ideal for holiday gifts, and parties for girls and women of all ages.
Femina, True Gear and yby brands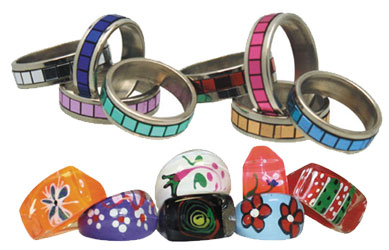 Another must-have fashion accessory is the cell phone case. Not just for protection anymore, mobile phone cases are one of the fastest growing sales categories, and Militti Sales crafts these products in the latest styles, colors and patterns. The company is constantly introducing new products in this grouping, under its yby label. Militti Sales also imports and sells small leather goods and jewelry, and its two jewelry lines are Breathless and Bad. Small leather accessories such as wallets for men are sold under the True Gear brand. For women, Femina is the company brand for its line of handbags and other fashion accessories. Within handbags, Militti Sales is seeing a shift to studded and ostrich patterns, and offers all the newest and hottest looks.
MyJacket wallet pouch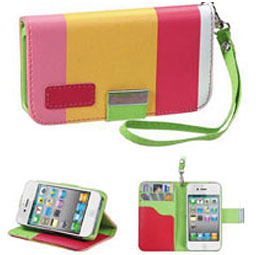 Another major hit in cell phone cases is the MyJacket wallet pouch, from Kasonic. The accessory does double duty, acting as both a cell phone case and a wallet, conveniently holding credit cards and IDs. Available for both men and women, it comes in several patterns and solid colors, and has a little strap to secure to the wrist. The bling bling diamond wallet case is also a popular seller among women, Kasonic says. Other trending cell phone case styles include beads and rhinestones, leopard prints and alligator looks, and bright hues and color block patterns. Today, women change their cell phone covers to coordinate with the season or an outfit, and Kasonic makes it possible for retailers to offer their customers multiple choices. With its strong partnerships with a large variety of manufacturers, the company offers retailers products at very competitive wholesale prices, with profit margins of 300 to 700 percent.
Options abound this season for indie retailers to profit from fashion accessories. Whether you are looking for the trendiest hip-hop crosses and pendants, reflective or name drop bracelets, royal themed bags or wallet-like cell phone cases, there is something for everyone in today's trending styles.
Where to buy:
RC Jewels
Tel.: 443-416-0208
Website: www.hiphopjewelrywholesale.com
Killerbeads
Toll Free: 800-399-7830
Website: www.killerbeads.com
Monster Trendz Inc.
Toll Free: 866-365-6425
Website: www.monstertrendz.com
Aliz International Inc.
Toll free: 888-BUY-ALIZ (888-289-2541)
Website: www.alizbags.com
Militti Sales
Toll Free: 866-597-0240
Website: www.milittisales.com
Kasonic.com
Tel.: 718-821-1092
Website: www.kasonic.com