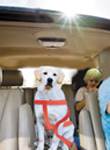 Sometimes when you see a product advertised on TV, you don't always have something nearby to write down the 800 number to order one. But now Hesh Mirpuri, owner of HSM Idea TV Corporation, has taken that idea to its next logical step by gathering scores of these popular items in one convenient location. Mirpuri, whose father founded the company in 1996, finds there's a big demand for items folks see on TV. So as soon as Hesh hears about a new product, he makes sure to stock it as part of his inventory.
Some of these items are turning out to be popular sellers. "The hottest product we have right now is the 'Buckle Up Dawg' seatbelt, for dogs to use when riding in cars," he says. The item comes complete with both a harness and leash, and attaches directly to the car's seatbelt to keep the dog safe and secure when traveling. "Too many times the dog leans out the window, or worse, jumps in the driver's lap while he's driving," Hesh says. "It can be a dangerous situation."
But the Buckle Up Dawg uses a universal snap clip to secure the animal, making for a more pleasant ride for everyone. Available in a bright red color, it wholesales for $7 each and retails for $19.99. Minimum order is ten cases, with 12 to a case.
Keeping with the pet theme, Hesh is also finding high demand for the "Comfy Pet," a huge washable throw that's perfect for protecting furniture from animal shredding or clawing. "The Comfy Pet comes in odor absorbing fleece, and measures a generous 60″ x 90″ to cover a chair or couch," Hesh says. Best of all, it also folds neatly to make a portable pet bed for your favorite furry friend. Available in either brown or gray, it wholesales for $6.50 and retails for $14.99.
For gardeners and plant lovers, Hesh has two new offerings that are also moving quickly. First is the "Easy Pulley," which allows those with hanging plants to easily lower them for watering, and then just as easily raise them up to their original position. It locks in place where needed, and comes with two hooks for easy installation. Retailing from $10 to $20, the Easy Pulley wholesales for $2 each. Minimum order is ten cases, with 24 to a case.
Mirpuri is also seeing high demand for "Miracle Pearls," for timely watering of plants and flowers. "Once placed in a vase with water, the tiny pearls expand to many times their size, keeping plants watered for ten to 15 days," he says. "When they start to shrink, simply add more water to reenergize them." Shipped 1,800 to a box with six different colors included, the Miracle Pearls retail for $10 to $20 per box, and wholesale at $2 each. There's a ten case minimum, with 24 units per case.
Hesh Mirpuri joined his father's company in 1999 and never looked back. Last year, the duo decided to expand and open an office in New York, and warehouse their products in Los Angeles. The company sells directly to retail stores at low, competitive prices. "We have all our inventory ready to ship," Mirpuri notes.
For more information:
HSM Idea TV Corp.
845 Third Avenue
New York, NY 10022
Tel.: 718-404-4389
Website: www.hsmideatv.com