By Neal Kaiser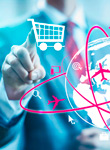 The way consumers shop has drastically transformed over the years. Thirty years ago, if someone wanted to purchase a new dress, one would have to drive to the closest retail store or shopping mall, browse the aisles and search for the perfect fit.
Today, shopping looks a lot different. Now, consumers can visit stores online with a computer, digital tablet or smartphone, and make purchases with a click of the mouse or touchpad. They do not need to worry about trying clothes on in a fitting room when there are size charts available on the website, different images of how the clothes look on models, and convenient return shipping availabilities – just in case the new purchase does not work out.
According to the U.S. Commerce Department, Internet retail sales surpassed $300 billion for the first time last year, closing 2014 with a whopping $304.91 billion – which is an increase of 15.4 percent over 2013. With ecommerce likely to remain a popular way for shoppers to make purchases, competition will continue to rise for retailers. For ecommerce retailers to stay ahead of their competition and retain loyal customers, it is important that they use platforms that help ensure seamless and enjoyable online shopping experiences.
The online shopping experience begins with customers entering a website, not unlike entering a brick-and-mortar location a generation ago. They should get an immediate vibe for the retailer's style, product specialty and theme. Think about it – when you physically walk into a store, you observe the layout, clothing and products, customer service and overall aesthetic of the brand – then you decide whether you want to shop, or leave for another store. Ecommerce retailers should try to translate the in-store experience for customers shopping online to truly represent their brand to consumers.
Take Ergobaby, an award-winning retailer that sells baby carriers, wraps and swaddlers. When you visit its website, you immediately see pictures of babies and parents using the store's products. The homepage features a clean, fresh design and layout, and also lists top-selling products, providing information about which carrier might be best for a customer, depending on her preferences and needs. When new parents browse Ergobaby's website, they get an instant grasp for the Ergobaby brand and what the company has to offer. Retailers should partner with ecommerce platforms that can provide solutions, like web design and custom programming, that maximize the retailer's visible online brand.
The Ergobaby homepage also entices customers to join the brand's social community by incorporating a banner on the website that encourages customers to use the #ErgobabyEveryday or #LoveCarriesOn hashtags when posting pictures or tweets about Ergobaby products. Any posts that feature these hashtags have a chance of being featured on the brand's social media platforms including Pinterest, Facebook and Instagram. This is a great example of how to incorporate a promotional strategy in ecommerce marketing. Retailers need to fully understand their customer base and what promotional strategies customers respond to best to maximize campaign impact.
In addition to establishing a visible brand and promotional strategy, which help to directly engage customers, it is critical that ecommerce retailers work with a platform that makes it simple for back-end users to maintain the online shop, such as inventory management and shipping processes. The platform should also be armed with merchandising tools to ensure that the retailer can stay on trend in the dynamic apparel industry, like product bundling features that allow customers to mix-and-match clothing to assemble outfits. Another valuable merchandising management feature is product reviews, which encourage customers to engage with the brand and provide feedback on products.
It is also pertinent that retailers remember that customers will not be able to find their website without a solid search engine optimization (SEO) program. It is wise for retailers to work with ecommerce platforms that maximize SEO and marketing efforts so that the brand can be found quickly and easily online. From SEO-friendly branded URLs to dynamic metadata, strong SEO capabilities will help retailers strengthen their presence online.
With today's evolving technology allowing consumers to engage with brands on a new level, there is a lot of opportunity for ecommerce retailers to build and maintain loyal customers. By using the right platform and implementing smart strategies, retailers have the ability to stand out amongst competition and take their business to the top.