By IvyLee Rosario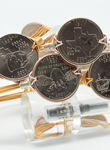 What started as a small retail boutique in a day spa has grown exponentially into a creatively successful jewelry business. For Lori Persa, owner of Sensational Accessories LLC, growing the company was important, especially being able to go up against other stores. "I wanted to be able to compete with other locals and I wanted to sell different items. So, I started purchasing from importers, started a website, grew and eventually started looking into importing myself." As a family operated business, the company is operated out of her home in which she has help from employees and her husband, who does the drilling for the pieces, the most popular being the coin wire wrap bracelets.
In order to get their hands on these one of a kind coins, Persa states she does a lot of research on coin collectors to find out who is willing to part with them. "These are the coins that came out with the states on them and they only produced a certain quantity per year, the ones where kids used to fill in the maps with the corresponding quarters for each state. We find these collectors who bought several rolls and we purchase from them. Now they are even making beautiful ones for national parks, volcanoes in Hawaii, the Grand Canyon, and they are coming out with more national parks this year." In addition to the state quarters, the wire wrap bracelets can also be made with pennies, dimes and buffalo nickels.
Sensational Accessories prides itself on being creative with their designs, incorporating the best stones in their jewelry, offering great customer service and being very fashion forward. "We produce new items everyday; I sit and come up with new ideas that will work with our new stones," said Persa. "Each stone is different because Mother Nature makes it. We make the necklace via what will make the stone stand out and be noticed."
With the growth of the business going strong, Persa is looking forward to branching out into a new market: souvenirs. "We have had a lot of businesses approach us that are in touristy type areas and they have been buying the United States quarter bracelets because we have them for each state. So if they are in a touristy part of Florida, then they are buying the Florida bracelets and people tend to be picking those up on vacation as souvenirs. This is perfect for someone looking for a souvenir that they can wear and use instead of just taking home something that is going to be sitting on a shelf somewhere." The wire wrap bracelets also show to be a big seller because they are stackable, so customers are buying more than one and they are customizable to represent anywhere the buyer wants.
If interested in buying from Sensational Accessories, they have a $50 minimum order and prices can range anywhere from $1 to $50 depending on what the product is – necklace, bracelet, earrings – and the stone that is used within the piece as well.