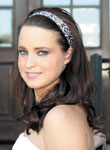 When it comes to making existing products better, Banded goes to the head of the class with its No-Slip Headbands that don't need to be readjusted and don't cause pain. "Part of the mission of the company is to talk to consumers about products they like, but would like to see improved," according to Matt Lindley, brand manager for Banded, a division of Lightbulb Innovation Group, LLC. The company found that women liked headbands as accessories, but didn't like the way they squeezed their heads and needed to be pushed back into place. Made with Opti-Size technology, a patent-pending invention, Banded headbands adjust to be tighter on smaller heads and roomier on bigger ones. "Elastic is sewn into the back of the headband, allowing it to fit a wider range of head sizes," Lindley states. "Our headbands are backed with velvet so they don't slip on your head, even if you have fine or thin hair." The headband will fit children as young as three, as well as adults.
Banded No-Slip Headbands are available in 95 designs and colors, and in multiple categories including animal, Christmas, dot, jacquard, print, reflective, solid, sparkle and stripe. Custom designs also are available. "The sparkles are the most popular, and we have a lot of distinctive styles that sell very well in hair salons and boutiques," Lindley points out. The product wholesales for $5 and retails for $10 to $15. Shipping is free and the minimum order is $100, with reorder minimums of $50. Banded offers several pre-pack programs. For example, an order of 48 headbands wholesales for $240 and includes a free display and free shipping; and an order of 96 headbands wholesales for $480 and includes 12 free headbands, a free display and free shipping. "A lot of retailers put the displays by the checkout, because the headbands are a good impulse buy. The gifts market is making a heavy shift toward women's accessories, and buyers still gravitate toward them," Lindley notes.
While comfortable headbands improve women's lives in a small way, Banded is committed to making the world a better place. One way it is doing so is by working with Amazima Ministries International in Uganda. "Amazima was founded by Katie Davis, a woman who grew up about five miles from our office," Lindley shares. She went to Uganda on a mission trip when she was in high school, and now lives there permanently with her 13 adopted children. "We learned that it wasn't a lack of access to education that was keeping kids from attending school there," Lindley recalls. "Kids weren't attending school because they were spending their days looking for food." To support Amazima in its mission to feed children so they can attend school, Banded has developed a program whereby each headband purchased provides three meals through the organization.
For more information:
Banded c/o Lightbulb Innovation Group, LLC
264 Mallory Station Road, Suite 5
Franklin, TN 37064
Tel.: 615-628-8159
Website: www.bandedwholesale.com