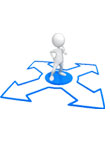 When it comes to outsourcing order fulfillment, independent retailers must determine on an individual basis what form of order fulfillment best suits their business needs. If you choose to work with a fulfillment house, it should be intimately familiar with your business to serve you properly. Bob Boylan, president of xpertfulfillment.com, explains: "A good fulfillment company is going to take care of everything for you. They will think of every contingency in advance, and know your business as well as you do. They will nip any problems in the bud before they get out of hand. You are allowing them to work on their strengths so you can focus on yours." Conversely, as with any service provider, if they aren't up to par, a retailer's business will be negatively impacted. Regardless of the type of fulfillment provider you choose, a number of common issues exist, including relinquishing control of a part of your business.
Ecommerce Fulfillment
The issue of volume is directly related to general ecommerce fulfillment. If you have a warehouse full of products and a small staff, you might want to outsource this aspect of your business, including the organization of the warehouse, putting away and recording stock. Then when an order comes in, the product is retrieved, packed and sent off. Depending on the product, the fulfillment house should know whether to use bubble-wrap, dry ice, foam, ice pack or shrink-wrap. Eco-friendly packaging should be used, when possible. The fulfillment house should ship orders to ensure they arrive to the correct location in a timely fashion, and via express or next day delivery, if the customer desires. As business grows and sales increase, if retailers outsource order fulfillment, they won't have to hire more staff, which means labor and training costs won't bubble out of control.
One disadvantage is of ecommerce fulfillment is that the customer will blame your business, and not the fulfillment company, for any mistakes in his or her order. As Boylan notes, the expertise and knowledge of the fulfillment company makes a big difference. "A good ecommerce fulfillment company will facilitate high growth as opposed to impeding it. You can take advantage of their resources, expertise and technology. When it works well, you get peace of mind, and when it doesn't, you feel a loss of control." In addition, if something happens to the fulfillment house, it could impact your business.
Mail Order Fulfillment
Mail order fulfillment is for a business that requires enveloping, wrapping and mail sorting. It may not be necessary for a small operation, but if you have numerous employees and there is a copious amount of mail coming in and out of your business, you might prefer to outsource it. With email, scanning and faxing, the amount of mail may not be as much as it would have been years ago, but it can be high. There is no doubt that people are attached to mail—if they send something out, they want to make sure it arrives quickly, and if they are waiting for something, they want it to come as soon as possible. When it comes to mail order fulfillment, the issue is whether you have the volume of mail to justify it," Boylan points out. If you do, providers often apply discounts.
Print Fulfillment
Print fulfillment pertains to everything regarding written material be it catalogs, brochures, postcards, presentation folders, binders or sales packets. "This is time consuming and labor intensive, which is why people like to outsource it," Boylan remarks. This includes creating, collating, storing and shipping printed materials.
Regardless of whether you are selling footwear or furniture, do your homework when considering outsourcing order fulfillment processes. When it comes to costs, make sure you understand the details. Protect yourself from any mistakes the fulfillment house might make by addressing problem resolutions in your contract. The decision whether or not to outsource order fulfillment is based on what makes the best business sense for your firm. If you decide outsourcing fulfillment is right for you, find a recommended and trusted supplier that understands your business needs.