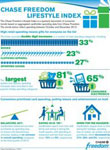 Consumers significantly increased expenditures on consumer electronics, toys and books heading into 2013, according to new data from the Chase Freedom Lifestyle Index. While monitoring their spending, cardholders were generous gift-givers this holiday season, according to the Index, which recorded big increases in a number of retail spending categories, including books (33 percent), clothing/apparel (23 percent) and sporting goods (27 percent).
The largest quarter-over-quarter spending increases were recorded in toys and consumer electronics, two traditionally popular holiday spending categories, which increased by 81 and 65 percent, respectively. Following consumer electronics and toys was jewelry spending, which rose 49 percent, compared to the previous quarter.
"Advancements in new smartphone, tabloid and other mobile technology clearly caused consumer electronics spending to sky rocket," says Phil Christian, general manager, Chase Freedom. "The rise of consumer electronics spending in the fourth quarter is a sign that strong demand for smart phones and tablets is likely to continue in 2013, providing a boost for our economy."
While Chase Freedom cardholders took to holiday shopping in the fourth quarter, they spent less on leisure and discretionary activities, balancing out retail spending increases and leading to no increase in overall spending compared to the third quarter of 2012.
Celebrating the spirit of the holiday season, cardholders appear to have opted for spending more time with family and eating in during the fourth quarter. Spending at restaurant and fast food venues decreased, by 15 and 9 percent, respectively.
Cardholders stayed close to home during the holidays, spending less on hotels, car rentals and toll purchases, which decreased by 21, 26 and 8 percent, respectively. Other leisure expenditures that were replaced by holiday shopping were museum and recreational facility spending, which decreased by 27 and 17 percent, respectively.
The only leisure activity that recorded an increase in the fourth quarter was the movie theater category, which grew by 13 percent, likely driven by advancements in digital technology as well as a year of blockbusters.
The Chase Freedom Lifestyle Index is a quarterly barometer of consumer trends based on aggregated cardholder spending data from Chase Freedom. According to the Index, year-over-year spending increased 2 percent, while quarter-over-quarter spending saw no change in Q4 2012.