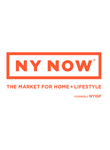 The New York International Gift Fair (NYIGF®) will become NY NOW this summer as part of a three-year reorganization of the event. The tagline for the event, which will take place August 17-21 at the Javits Center and Pier 94, is "NY NOW, the Market for Home & Lifestyle." The summer 2013 market will introduce four new comprehensive collections and a dynamic exhibit floor layout, positioning New York as the defining marketplace for fashion-forward, design-driven home, gift and lifestyle resources, according to NYIGF.
"The strategic vision we articulated three years ago will become a reality this August in New York City," says Christian Falkenberg, NYIGF director and GLM vice president. "The show's reorganization into four collections, Home, Lifestyle, Handmade and New, and the repositioning of related resources not only will reinforce the depth and breadth of resources in the New York market, but also will better reflect the way retailers are shopping and sourcing today."
"NY NOW will serve as a great 'umbrella' brand for the market," adds Falkenberg. "It is an all-encompassing name that is reflective of the Fair's 400+ gift, home and lifestyle product categories."
NY NOW's 2,800+ exhibitors will be repositioned into four broad market collections, rather than in the 10 NYIGF divisions previously categorized by product category or aesthetic. NY NOW Home will present a comprehensive collection of 1,200 home furnishings, home textiles, decorative accessories, tabletop and gourmet housewares on Level 3 of the Jacob K. Javits Convention Center. A juried cross-category collection of contemporary design resources will continue to be presented under the  Accent on Design® banner and within NY NOW Home.
NY NOW Lifestyle will showcase a broad spectrum of merchandise categories, including giftware, personal care, stationery, fashion accessories and children's products. NY NOW Lifestyle's 1,100 exhibitors will be located on Level 1 of the Javits Center, with an exhibit floor layout engineered to maximize synergies and cross-category shopping opportunities.
Nearly 500 handcrafted resources, representing all home and lifestyle categories and crafted in all types of media, will be offered in NY NOW Handmade®, with distinct groupings of designer-makers and global import resources. Handmade Designer Maker will continue to be presented in the Javits Center North and Handmade Global Design will continue to be presented in the Javits Center's Level 4 Galleria.
The NY NOW New collection will spotlight newcomers to the New York market in a cross-category collection of home and lifestyle products. Some 250 new-to-market exhibitors will be grouped together at Pier 94.
NY NOW's four comprehensive collections encompass 100,000 products in 400+ product categories. More than 35,000 people from all 50 states and more than 80 countries worldwide are expected to attend the event. Information and registration is available online at www.nynow.com.