By Vishy Jayashankar, Ugam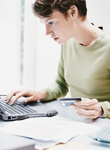 Ecommerce is not just for the giants of retail, but competing with the big guys can be challenging. Independent retailers selling products online should always be looking to improve their websites in order to maximize conversions and get an edge on their larger competitors.
The goal should be to improve the way products are presented on the web to reduce consumers' price elasticity by creating a better shopping experience. Consumers have demonstrated that they are willing to pay more for a more satisfying experience. From simplifying product taxonomy to refreshing content with new keywords, there are a number of simple steps retailers can take to improve search rankings, click-through rates, load times and, ultimately, conversions. Even the smallest retailers can follow these tips to get big results.
Here are the top five ways independent retailers can improve website content:
1) Improve product descriptions:
The smartest way to do this for a large number of products is to create templates for auto-text filling. Templates can be created for all broad categories with placeholders for product-specific information. All you need to do is decide on a word count and create sentences with placeholders for standard attribute combinations. These templates can help quickly generate hundreds of descriptions so you can increase your description coverage efficiently.
2) Refresh product descriptions and related content:
Outdated content can lead to lower search volumes (Google ranks refreshed content) and directly affect conversions. This can be fixed by refreshing content. Rewriting can be expensive, though, so just get the content rephrased and infuse relevant keywords – include keywords that reflect customer sentiment to perform better on organic search results (e.g., lightweight backpack, etc.).
3) Track the performance of your keywords:
The search engines direct traffic to your e-commerce site based on keywords. If you notice that your site is not doing too well on the search engine results page and you have a low click-through rate, it is time to take quick action. Keywords are dynamic and refreshing them along with meta-data (i.e., meta-titles and descriptions) can make a huge difference in your site's performance.
4) Improve your text-to-code ratio:
Internet surfers have a short attention span and your site may not be doing well simply because your pages take a long time to load. This problem can be identified using simple third-party tools. Act upon this immediately by improving your text-to-code ratio – there should be more content than code on your page. Flash applications and embedded videos on the homepage increase your page load time considerably. Just put an image on the homepage that the user can click once they arrive on the site instead. This way you can have the video without slowing down the load time.
5) Simplify your product taxonomy:
This will make your site more easily navigable. Avoid creating too many layers and make an effort to classify products correctly as people search them. A search path analysis will tell you where the search began, the intent of the search and finally, where consumers landed on your site. This, when married to your bounce-rate data, will tell you exactly how poor your internal search terms are and how many irrelevant searches they are throwing up, leading to customer dissatisfaction. Use these internal search analytics to improve your site's performance.
Over the past couple of years, retailers have been ramping up their efforts on the content analytics front. That is because the enormous amount of freely available consumer demand data that is out there, from product reviews to social media likes and comments, makes it possible to identify trends in the market and position online product assortment accordingly.
Website content has the power to raise price perception, which will significantly increase overall margins. There should be nothing preventing even the smallest retailers from paying close attention to this part of their business.