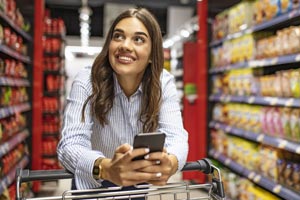 by Melissa Stivale
While there is no doubting the dramatic push toward ecommerce during the pandemic, that is not to say brick-and-mortar has become anywhere close to obsolete as consumers navigate the return to their 'new normal.' In fact, according to Morning Consult's most recent poll, 70 percent of adults are comfortable shopping at malls now compared to just 44 percent at this time last year.
This increasing foot traffic is reason enough for retailers to more closely examine the power visual merchandising and marketing have on the ability to convert a sale. Now is the time to invest in engaging displays that are versatile, easy to work with, and make an impact. Here are some tips on how arranging them appropriately can make or break their effectiveness:
Displays Depending on the Store Goal
The specific layout of each store should depend on the size of the space and the goal of the customer experience. A high-end boutique may limit product assortment to create a feeling of luxury and exclusivity, but a discount retailer may favor breadth of product and want to utilize every available square foot to its advantage. Of course, customers approach layout, and therefore, displays, differently.
Catering to Luxury
The high-end boutique caters to its clientele, who views shopping as an event. Space at the center may be reserved for leisurely lounging as customers try items on and take time consulting with friends over pricey decisions. It is smart to utilize acrylic cases and tables to cross-sell in those areas, displaying accessories sporadically yet strategically in order to draw the eye and create a natural pause, so consumers engage and slow down their shopping rhythm.
Studies have shown that consumers who drive on the right side of the road navigate stores counterclockwise and those who drive on the left side tend to explore stores clockwise. So, an American boutique can position shelving and pedestals spotlighting a few select items along the right perimeter to create a clear path to the focus products.
Space Saver Techniques
The discount retailer would do well to utilize grid panels that can either be affixed directly to a wall or propped on free-standing bases in order to utilize multiple sides — both options make great use of the space, depending on the layout. They are also completely customizable, so you can adjust to shifting demands and create engaging product arrangements. Same goes for multi-sided and rotatable slatwall fixtures, which are popular for their durability and versatility.
Another consideration are floor-standing sign holders that can easily be transported and moved around to draw attention to different areas of the store, as well as replaced with fresh, seasonal signage that favors new products. Discount retailers can use these to promote sales, while high-end boutiques can showcase new campaign imagery.
4 Keys to Success
Putting aside the differences of more polarizing types of retailers, there are a few keys to creating successful displays that work for nearly every type of store:
The high visibility of end caps ensures the products within them are more easily seen than they would have otherwise been within the aisle. This type of display promotes engagement, yet still keeps traffic flowing as consumers are naturally guided to the following aisle. There is also more room at the end of an aisle, which leads to the next point.
Floor-standing displays should always be positioned in a way that allows for plenty of personal space to avoid the phenomenon known as the "butt-brush effect." It explores how consumers will evade crowded areas, even leaving behind products they are interested in so this way they will not have their personal bubble breached.
Capitalize on Customization
You can have the right product in the right place, but without a highly engaging display, it still has the potential to go unnoticed. That is where customization comes into play. Branded displays are making an impact at big box stores, standing out for the cohesive story they tell across an omni-channel approach. Catchy slogans and colors inspire consumers to have an emotional connection with the brand, which in turn prompts loyalty.
Since every customer makes their way through the entrance, it is a good place for new products or ones you want seen straight away. Just give shoppers a five-to-15 feet window of free space to decompress before transitioning into the store so as to not overwhelm them.
A staggering 87 percent of US consumers make impulse purchases, and a good way to capitalize on that is by putting standing displays like dump bins near the register. Fill them with items that require little consideration and highlight them with bold colored signage to garner attention.
While there is no one-size-fits-all approach when it comes to displays, there are certainly ways to make the best use out of every individual retail space depending on the marketing goals. Utilizing the keys to success will ensure customers remain engaged while also comfortably navigating the store — a win-win for both parties.
Melissa Stivale is a professional content creator for the retail manufacturing industry and a writer at shopPOPdisplays.com, a leading manufacturer of in-stock and customizable retail point-of-purchase (POP) displays and merchandise.