By Jim Dechow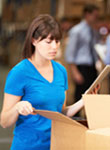 As the ecommerce industry continues to grow and innovate, consumers' expectations become harder for online retailers to meet. Programs such as Amazon Prime have increased the demand for fast and inexpensive shipping. In fact, during the 2013 holiday season, Amazon.com reported it shipped enough items with Prime to deliver at least one gift to every household in America. That's a lot of two-day shipping. Without a doubt, simplified and cost-efficient order fulfillment should be top of mind for online retailers these days. So how do retailers compete without losing money on fulfillment?
Expanding fulfillment networks with new warehouses, third-party fulfillment centers and drop shippers can increase a retailer's product catalog and accelerate delivery options, helping their business grow. But aggregating all of this inventory information across expanded fulfillment networks can be challenging. Tracking accurate stock levels, matching orders to the most strategic warehouse and cutting shipping time by fulfilling orders with local warehouses can be a chore to manage. It's all about working smarter, not harder. The key for retailers is to bring automation and best practices to their fulfillment networks, allowing them to better serve their  customers while reducing the costs of fulfillment and making better use of available inventory.
Real-time quantity management
Making the right decisions about fulfillment starts with having the right information. Retailers need accurate, to-the-moment data on stock levels at each fulfillment center. Whether retailers are using their own warehouses, Fulfillment by Amazon, a third-party vendor or a drop shipper, they must be able to maintain a big-picture view of their network in real time. Knowing what products are available, and where, will help prevent both overselling and underselling.
Proximity order routing
One of the best ways retailers can cut delivery time and costs is by fulfilling orders from the distribution center nearest to their customer. Proximity order routing first seeks to fulfill the entire order from the distribution center closest to the end destination. In situations where multiple distribution centers are required to complete an order, automating proximity order routing can create rules that will allow for the most efficient fulfillment path, decreasing delivery costs and helping customer satisfaction ratings soar.
Prioritized distribution centers
For the retailer, all distribution centers are not created equal. Proximity to the customer, availability of product to complete orders, and other factors all play a role in determining the right distribution center for any order. It is an intricate dance, and no retailer can expect to make these decisions on the fly. Retailers need an automated, rule-based system that defines the best approach for every situation. At the same time, the system must also be dynamic and able to adapt to the constantly evolving retail environment.
The bar continues to be raised, and fulfillment isn't an operational process that retailers can simply set, execute and ignore. It's an integral part of the customer experience, and contributes significantly to the profitability of each retail transaction. If your online business doesn't have real-time quantity management, proximity order routing and the ability to prioritize distribution centers as foundations of your fulfillment strategy, it is likely hurting your bottom line and your customer satisfaction.