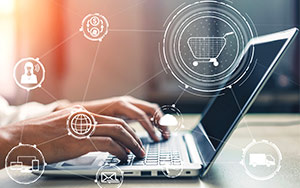 Many retailers see their customers using multiple channels and understand that unifying the relationship between social media, physical locations, and ecommerce options is vital for survival. Knowing that you need to create an impactful omnichannel experience for shoppers is one thing, but making it a reality is different altogether.
Why Do You Need to Build Omnichannel Experiences?
The most important reason that your business must go omnichannel is because your customers prefer and expect a multi-channel experience. Consumers use smartphones and other devices to shop and want the ability to shop 24/7. They also demand the flexibility to visit your physical location when desired. At the same time, shoppers like using online platforms to plan or set up orders before finalizing their purchases at physical locations.
It is critical that your omnichannel strategy includes online platforms to connect customers to your retail outlets. Social media plays an important role, because it is where customers can shop and leave product reviews. Planning and implementing an omnichannel experience needs to use social media to foster positive reviews and brand loyalty, so your plan should include the correlation between online purchasing options and shopping at physical stores. Customers expect to have options like purchasing products online and then visiting the physical store when they need to make returns or exchanges. Your business runs the risk of losing customers if this omnichannel approach does not exist.
How to Build an Omnichannel Strategy
The first step involves tracking customer behavior. The consumer journey is more complex today than it has been at any other time in history. Purchases might happen online or inside physical stores, and retailers must understand the shopper's path and decision-making process across all channels.
Think about the following considerations when mapping customer buying behaviors:
When do they purchase (morning, afternoon, or at night)?
Where do they purchase (during commutes, at home, or in stores)?
How often do they purchase (once per week or once per quarter)?
What devices contribute to sales (in-store payments, tablets, desktop computers, or smartphones)?
What types of products do they purchase?
The next step is improving customer engagement across all of your channels to increase sales volume. Use the following triggers:
Send personalized notifications based on customers' in-store locations
Offer sales events
Reach out on social media to initiate conversations with consumers
Offer discounts
Send special offers based on shoppers' past purchases
Use new technology during this step to effectively engage with customers and create more accessible purchase procedures. Examples include using virtual reality technology or innovative ecommerce/retail solutions.
How to Build an Omnichannel Experience as a Physical Retailer
Improve the in-store experience for customers by offering in-store returns after buying online, the ability to pick up online orders at the store, and helping them to check inventories from a smartphone. You can also integrate the in-store experience with social media. For example, you might use large in-store screens that display social media feeds with:
Videos
Tweets
Commentary on purchases
Images
Use online browsing histories to send in-store notifications to customers that provide a more personalized experience. This also allows retailers to notify them about sales, coupons, or discounts on in-store items they previously viewed online. Offer an omnichannel loyalty program that tracks online and in-store visits, buying history, and frequency of visits to reward repeat visitors and customers.
Personalizing the Online Experience While Expanding Offline
One way to personalize your brand's online experience is to use live chat widgets so customers can connect with sales associates or product experts from their smartphones or laptops. This process not only helps you to uncover consumer behavior, but also creates additional loyalty.
Brainstorm ways to extend your reach into the physical world in ways that go beyond your own retail locations. Shoppers today still enjoy the experience of going into a physical location and putting their hands on products they are interested in buying, but you do not necessarily need to open new physical stores to reach more offline customers. Retailers can create an omnichannel experience by optimizing physical experience zones and create partnerships with other offline stores that will allow you to set up physical displays of your product line inside a specific zone within their brick-and-mortar space.
Society continues to innovate with digital transformation methods. However, intelligent retailers will optimize customer value by building an omnichannel experience that gives their customers the best of both worlds. Do everything in your power to leverage all available technology to connect your retail outlets with digital resources. If you do this, then you can gain an advantage over your competitors in the years ahead.
Meredith Benson is the Community Outreach Manager for Blue Horseshoe, a supply chain consultancy helping leading retailers and manufacturers to streamline their operations and build more resilient supply chain operations. Outside of work, she enjoys spending time with her family & two dogs in central Indiana.