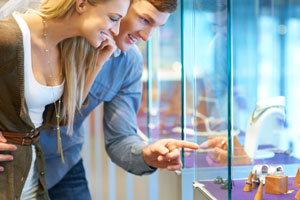 by Melissa Stivale
As consumers become increasingly more confident shopping in-store again, it is vital for retailers to reexamine how to display merchandise in a way that grabs attention without causing crowding in certain areas. Men and women are both more likely to purchase items outside their identified need when physically in-store, compared to while shopping online, which naturally increases the effect an appropriate display can have on impulse buys.
Placement is Key When it Comes to POP Displays
The front entrance is a great place for temporary or seasonal displays featuring products consumers can add to their carts as soon as they walk in the door. Interestingly, 90 percent of Americans automatically turn right when entering a store, so it is a particularly smart choice to put an easily adjustable slatwall in that area or shelves along the right perimeter to showcase the first items you want customers to see.
End-caps are more than twice as effective at driving sales than displays within the aisles, plus they guide consumers to straddle two aisles, creating a natural flow of movement. This prevents bottlenecking and offers more personal space while shopping, which shoppers tend to prefer.
Make Displays Visually Appealing, Interactive, & Accessible
It should come as no surprise that consumers are not living by the adage, "Don't judge a book by its cover." In fact, shoppers rely overwhelmingly more on sight than other senses to process information. This means it is important that the aesthetic of the display appropriately conveys the message you want to send. Since sight garners the top spot on consumer's first impressions, retailers are looking to combine point-of-purchase displays with company branding or marketing messaging with customizable retail displays, pedestals, and acrylic risers. The dual-purpose retail displays save space, time, and money.
Where a luxury jewelry boutique should lean towards acrylic shelving and cases to exhibit earrings and bracelets from all angles, a farmers market makes better use of wooden carts and baskets that capture its rustic feel. To avoid choice-overload and encourage interaction, it is best to keep the number of products in each display to a minimum. This helps customers make a clear decision in less time, so they can keep moving throughout the store. It also allows them to more freely pick up and examine products. According to Forbes, 50 percent of consumers are deterred from online shopping because they cannot physically touch the products.
Display Products at Eye-Level
Keeping items at eye-level is a great way to make sure customers clearly see them without having to reach or bend. This is where pedestals and risers come in handy, elevating items to just the right height to catch the eye of customers. Always craving convenience, shoppers are also more likely to impulse-buy products they can easily see from the aisle.
Overall, improving the shopping experience with smart, attractive displays that keep traffic flowing will ultimately create an environment where people are more likely to buy, which is always the priority.
Melissa Stivale is a professional content creator for the retail manufacturing industry and a writer at shopPOPdisplays.com, a leading manufacturer of in-stock and customizable retail point-of-purchase (POP) displays and merchandise.