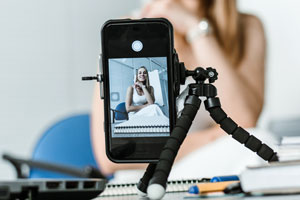 by Christina Ross
Almost 16 years ago, Google bought video-sharing site YouTube for $1.65 billion. The iPhone did not yet exist, and neither did video-editing apps or high-quality camera phones. Within several years, however, Google's purchase was already being called one of the great business deals of all time. Today, conservative estimates of YouTube's value put Google's financial return on its investment at around 30,000 percent.
Google's timing was impeccable, of course, with the game-changing iPhone appearing less than a year later and social networks like Facebook about to explode. YouTube's success as an idea can be ascribed to something more timeless. Just as black-and-white would eventually replace color, it was always inevitable that something static, such as photos and text, would yield to something dynamic, such as audio and video.
A Powerful Medium Taking Over Social Media
Consider that right now, TikTok is the number one social media app in the world, largely because it, like YouTube, is video-native. Facebook and Instagram, which both began as glorified photo albums, have been losing ground lately. While there are still popular memes and emojis, viral videos and .GIFs are quickly taking over social media. Facebook founder Mark Zuckerberg recently announced that growing Reels, Instagram's video app, will be the company's priority, and last year the boyish billionaire spent $10 billion building a "Metaverse" that will make video an immersive experience, using holograms and virtual reality goggles.
Video is such a powerful medium, in fact, that YouTube is now the largest music streaming platform in the world. In other words, video really did kill the radio star. No matter how great the song, eyeballs follow what moves. Because of this, retailers should use video to build a successful marketing campaign this year, and here is how you can do just that:
Curate
In order to continually engage your audience, curating content that requires minimal focus while delivering maximum information in a short period of time is key — especially as technology and social media advances. Using video on social media is especially effective, but remember to post relevant content. Just as you would not return to a store stocked with products you do not want to buy, your prospective customers are not going to come back to a site that failed to engage on a previous visit.
Balance
There are so many platforms these days, and nearly all of them are monetized by ads, from decades-old television networks to the latest social media app. Rather than go all-in on one platform, try to strike a balance between several. As obsessed as we can become with metrics and demographic data, and as emotionally attached we can become to one platform or app, effective messaging still comes down to trial-and-error. After all, if you are not there when lightning strikes, did it really happen?
Engage
What kind of videos work best for your audience? Targeting the right audience is important, but creating content that keeps them engaged is essential. Today we live in a visual world where consumers have incredibly short attention spans. A phone has morphed from a speaker to a screen that we watch or scroll, even when we are on a call. Watching is more effective than listening or reading alone. According to the Association of Psychology, "most people will only read up to 28 percent of the text on a web page, and more commonly only manage around 20 percent." This is why YouTube is the second most-trafficked website in the world, and increasingly considered a platform for learning as well as entertainment.
Budget
Thirty-second spots at this year's Super Bowl cost a reported $7 million each — and that is before producing the ads themselves, many of which featured major celebrities and elaborate special effects. Advertisers were clearly paying for the once-a-year opportunity to get in front of over 100 million viewers at one time, as well as the ancillary publicity that comes with the event. On the other hand, there are so many examples of viral videos that reach an even larger audience and which cost next to nothing to make and post. So when you sit down to budget for a video, it can be complicated.
Just remember, video is not just video anymore. The low cost/high impact combination of digital video has turned it into a place where ideas begin. Amateur chef Joshua Weissman, for example, became a New York Times best-selling author from his YouTube channel. The rewards of video marketing can be even bigger than you might think, so think big!
The future of digital marketing is bright, and while there are many moving parts, the way they all work together will help you to get ahead of competitors who stick with pictures and text. A final caveat: because video is a dynamic medium, continually refining one's digital strategy is key–and, of course, absolutely worth it.
Christina Ross is the president and marketing director at Silver Frog Marketing and loves helping businesses with their creative design and overall marketing efforts. She has spent the majority of her career in the marketing industry, gaining experiences in areas such as website design, social media marketing, and TV/Radio broadcast.