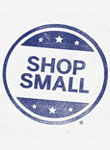 With five fewer shopping days between Thanksgiving and Christmas this year than last, 32 percent of indie retailers are starting their holiday promotions earlier than last year, according to a survey by the National Federation of Independent Businesses (NFIB) and American Express. American Express founded the event, which is November 30 this year, in 2010. Many small business owners who are aware of Small Business Saturday say the day will be a part of their promotional calendar as it will be helpful in attracting new customers.
Assistance with promotional efforts
American Express has organized a Small Business Saturday Marketing Toolkit, available at ShopSmall.com, which includes:
Printable signage and decals to print and display in a business.
Logos and imagery for business websites, custom materials and social media pages.
Suggested social media and email templates to get the word out to customers on the Web.
Premier partners
American Express has also rallied the following organizations to lend a hand in providing resources to mobilize businesses and consumers for the day.
FedEx Office is offering two copies of the free 11 by 17 inch printed poster that small business owners can create as part of their customized marketing campaign on ShopSmall.com. In addition, FedEx Office will offer a special discount to small businesses that take advantage of the free printing offer. FedEx will also promote Small Business Saturday to small businesses and consumers through its marketing channels. Offer terms apply and are available at http://local.fedex.com/?promo=sbs2013.
Foursquare and American Express are offering small businesses $250,000 in free credits to use on the recently launched Foursquare Ads for Small Business platform. The credits will enable businesses to create local campaigns that can help drive new customers into their stores based on where they are or what they are searching for. Additionally, Foursquare will highlight millions of small businesses in its app to help drive foot traffic to local merchants on Small Business Saturday. Offer terms apply and are available at http://business.foursquare.com/shopsmall.
Twitter is offering one million dollars in free advertising to small business owners who have not advertised with Twitter previously, to help drive customer engagement and increase sales on Small Business Saturday and throughout the holiday season. Business owners can also get ready for the big day with an educational toolkit containing helpful tips on gaining more followers and launching exclusive promotions. Offer terms apply and are available at https://business.twitter.com/shop-small.
United States Postal Service (USPS) is providing shipping of Shop Small branded merchandise orders placed on ShopSmall.com as well as Neighborhood Champion Activation Kits. In a move to help drum up support and activity on Small Business Saturday, USPS will also distribute a consumer mailer and place signage at approximately 1,500 Post Offices to emphasize the importance of supporting their neighborhood business and to help motivate consumers to go out and Shop Small on the day.
Small Business Saturday, now in its fourth year, falls between Black Friday and Cyber Monday and serves as the traditional kick off to the holiday season for independent retailers and restaurateurs. The day was created in response to small business owners' most pressing need, more customers, and has since grown into an annual celebration of the independent businesses that help boost our local economies.
For more ways to get the most out of Small Business Saturday, click here.