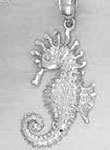 North Gate Silver Inc. wholesales an extensive line of .925 sterling silver jewelry, including charms, chains and necklaces, earrings, bangles and bracelets, CZ rings for men and women, and engagement rings and wedding bands. Many items are available in the micro pave style. The company owners have deep product and industry knowledge, having been in the wholesale jewelry business since 1977, and offer retailers the most popular traditional and trending styles.
North Gate Silver's products are manufactured in the U.S. and Italy, featuring a finish that produces rich looking jewelry with protection from the elements. "Our jewelry has a brilliant shine, similar to what you see on high end platinum and gold jewelry," says Becky Lynn, VP of marketing. "Our unique three-step process protects the jewelry from tarnishing as well."
Nautical and nature charms top sellers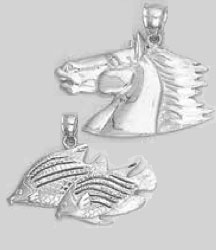 North Gate Silver has the largest selection of charms in the industry. "You will not find anyone else with the amount and variety of charms we carry," Lynn shares. "We have more than 500 charms now, and we will be doubling that by the end of the year." The company has a huge selection of nautical themed charms, which are among its most  popular sellers. "They are much more detailed than most silver jewelry, and have our exclusive high polish finish," Lynn continues. "With our fish charm, for example, you can see the details of the scales and eyes, and the waves on the fin." Nature themed pieces are also hot sellers. "On our deer head charm, you can even see the grooves on the antlers." The wide array of charms includes butterflies, cats, elephants, horses, scorpions and much more.
All North Gate's jewelry is super lightweight, and is sold by the gram rather than by the piece. "Our prices are extremely reasonable. Many other companies sell jewelry by the piece, so retailers do not know what they are paying for until they get it, especially in the micro pave," Lynn explains. "We sell our micro pave for much less than our competitors. We also have a line of charms and rings in the micro pave that a store can buy for $5 and sell for up to $20 each. We sell a tremendous amount of chains and earrings as well, because our price points are so affordable."
Small retailers a big priority
North Gate Silver caters to the small business owner. "The feedback we get from smaller businesses is that we are beating out the major guys in price. We make it easy for them to buy at the same price margins as larger retailers, and they can make a good profit," Lynn adds. The company's minimum order is $100, and retailers can mix and match merchandise. Volume discounts are available, and items generally ship within three business days or less. North Gate Silver guarantees its products to be free from manufacturing defects, and will repair or replace these items.
North Gate Silver Inc.
P.O. Box 691119
Charlotte, NC 28227
Tel.: 704-544-9375
Website: www.northgatesilver.com