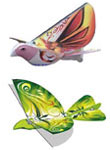 E-Birds remote control toys, manufactured by CBJ Global LLC, are colorful gliders that are easier to operate than most R/C helicopters. These entertaining devices look and act like real birds, flapping their wings, and climbing, swooping and diving through the air, while making a simulated bird sound. A rudder on the bird's tail allows the user to direct the unit left or right, and the easily controlled wing speed makes E-Bird climb higher and fly faster or slower, or hover in place. The bird is capable of controlled flight at a distance of up to 70 feet, and if the toy gets out of range of the controller, its wings will lock and E-Bird will gently glide until it reaches the ground. E-Bird is made of lightweight, wind resistant material. Four AA batteries power the remote control, and a five-minute charge will produce about ten minutes of flight time. A detailed instruction manual is included, and will have users operating the product in minutes.
Demonstration attracts shoppers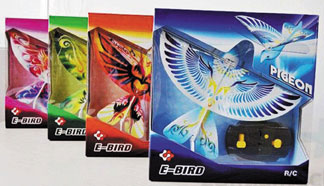 E-Bird is available in four designs: Blue Pigeon, Green Parrot, Pink Butterfly and Orange Phoenix. "When vendors demonstrate the E-Bird at a flea market, it is eye catching and people come from all over to find out what it is," says BJ Lehrfeld, company partner. "E-Birds are very easy to control, and people have fun flying them both indoors and outside." Wholesale price starts at $15, and volume discounts are available. Retail is $30 to $50. Cases contain 24 pieces, and there is no minimum order. The product packaging is bright and detailed, and boxes stack easily to make an appealing point of purchase display.
Top R/C toys and more
Dedicated to offering a line of best selling R/C products, the company also sells Hubsan X4 quadcopter, a six axis flight control system with adjustable gyro sensitivity; Air Swimmers, fish that swim through the air with life-like motion; the R/C Mini Flyer Helicopter with dual propellers; the Mini Metal R/C Helicopter, one of the world's smallest and lightest R/C helicopters; the R/C Sports Car W3 with a sleek design that is great for beginners; and the R/C Drift Car 1:24, a super fast car that drifts on turns. In addition, CBJ Global sells many other unique toys as well as LED products.
CBJ Global LLC
2900-B James L Redman Pkwy.
Plant City, FL 33563
Tel.: 718-915-5376
Website: www.cbjgloballlc.com