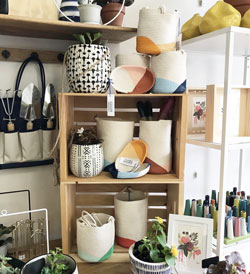 Home decor is a rapidly rising retail category. Between furnishings, linens, bedding, wall decor, kitchen items, candles, decorations, and seasonal items the options are endless. Customers are spending more and more on home decor products, especially as Millennials continue to purchase homes.
Easily add home decor items to your store by following these quick tips:
Get Inspired
The first step is figuring out what types of products would work best in your store. You can survey current customers or perform a focus group to get feedback. Also, visit trade shows such as NY NOW to get a feel for what type of products are out there and what is popular.
Start Small
The biggest mistake a retailer can make when adding a new product line is adding too much at once. The worst case scenario is having tons of excess product that aren't moving. Start small by slowly incorporating a few items. Focus on gift and impulse items at first, such as candles, blankets, mugs, and seasonal items. Once you get a feel for what is selling, then start to add more inventory.
Incorporate the Products Naturally
Putting all of your home decor items together in one section of your store may not be the best merchandising strategy, Create mixed lifestyle displays that incorporate multiple types of products such as apparel, jewelry, and decor. Give shoppers an idea of what the products would look like in their own homes.
FauxFur Throw
This Wish Upon a Star throw will have your customer wishing to use this throw all year long. Soft fabric and neutral metallics will fit in perfectly with any home decor.
Duke Imports
www.Dukeimports.com
Americana Decor
Nostalgia never goes out of style. Shoppers of all ages are sure to appreciate these quality tin signs with Americana themed prints.
Ande Rooney
www.anderooney.com