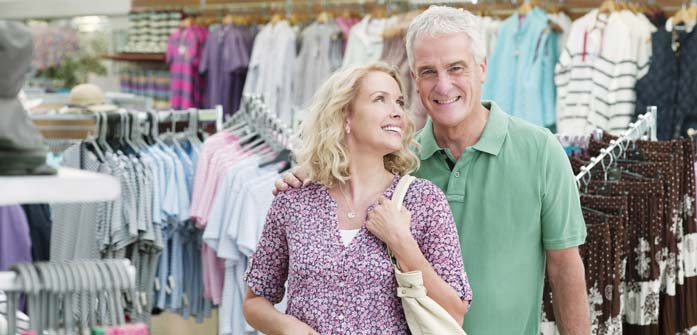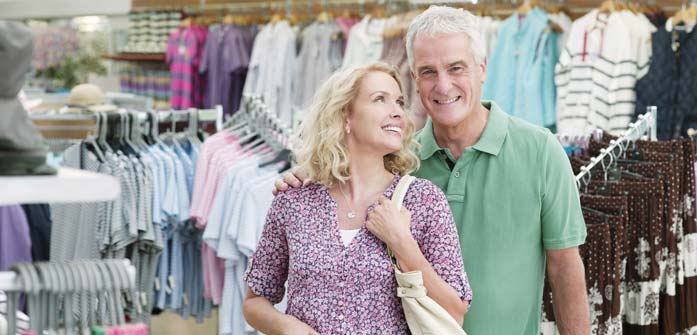 Baby Boomers are a generation of Americans born between roughly 1946 and 1964. The term comes from the noticeable increase or "boom" in birth rate after the end of World War II. Today, there are roughly 75.4 million baby boomers. Soon, over half of the U.S. population will be over 50. As one of the largest demographics, Boomers play a big role in shaping our country in terms of the economy, politics, the workplace, American culture, and just about every aspect of American life.
Baby Boomer Spending Power
When it comes to retail, Baby Boomers make up about 40 percent of the market share. Aside from being a large demographic in terms of population, Baby Boomers are also a relatively wealthy demographic. Boomers control about 70 percent of all disposable income in the U.S., and studies show the group is set to inherit a collective $13 trillion during retirement.
According to Total Retail, the average purchase for a baby boomer is $203, which is $30 more than the average millennial purchase. Baby Boomers also outspend every other generation by $400 billion annually, providing over 50 percent of U.S. consumption. Over the next 50 years, spending by people aged 50 years and older is expected to increase by 58 percent to $4.74 trillion over the next 20 years. Meanwhile, spending for Americans aged 25 – 49 will only grow by 24 percent. Boomers are already the biggest spenders, and over the next few decades that lead will only multiply.
Yet, Marketers Ignore Baby Boomers
Despite the enormous spending power of this generation, they are largely neglected by advertisers. Despite controlling 70% of the nation's disposable income, only 10 percent of marketing dollars target consumers over 50. Common marketing thought processes assume that Boomers already have their favorite brand and favorite products and that winning them over will be a lot more difficult than appealing to a younger generation that might not have a favorite brand.
In a New York Times article, Robert Passikoff, president of Brand Keys Inc., says "Marketers have gotten so hot for the millennial generation that they have essentially ignored boomers." The article explains that many marketers are Millennials themselves. Additionally, many companies see millennials as the future. Catch them early enough and you may have a lifelong customer. However, since Millennials are notoriously fickle, and Boomers are more brand loyal, that strategy might not play out in the way marketers hope. What's more, 82 percent of Boomers are open to trying new brands. All in all, brands are missing a huge opportunity in not targeting Boomers.
Is Anyone Targeting Boomers?
Yes, some brands are. But, most of them are not doing it well. Eight in ten Boomers say that marketers are making some kind of mistake when trying to appeal to people ages 50-69. Half (47%) of Boomers say that companies use inaccurate stereotypes about people their own age in advertisements.
How to Market to Baby Boomers
Did you know: Baby Boomers outspend younger adults online 2:1? 96 percent of baby boomers use search engines, 95 percent use email and 92 percent shop for products and services online rather than shopping in stores and shopping malls. Overall, shoppers 50 and older spend $7 billion online each year. So, to advertise to Boomers, utilize email campaigns, Facebook ads, and SEO marketing.
Strategies for Appealing to Baby Boomers
To gain loyal Baby Boomer customers, its important that retailers not just advertise to the generation, but also provide the shopping experience they are looking for. To appeal to Baby Boomer shoppers, retailers should:
1. Be Inclusive
Especially when it comes to buying apparel and accessories, Boomers want to see people that look like them in advertisements. Which, honestly, is how many of today's consumers from every generation feel about the fashion industry.
2. Provide GREAT Service
Baby Boomers are the age group most likely to write off a retail because of subpar customer service. In fact, in choosing where to shop, 79 percent of Boomers consider customer service in addition to price.
3. Offer a Straightforward Loyalty Program
Baby Boomers are also most likely to participate in your loyalty program. According to Vend, "When it comes to Boomers, around 26 percent are active in all of the programs in which they are members, as opposed to only 19 percent of Millennials. They also place a high value on program simplicity, with 78 percent saying they will continue to participate in a program because it's easy to understand."