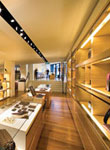 The personality of a retail store is not determined by merchandise alone. The layout and presentation of product also contributes to how customers perceive your business. The interior design, architecture, lighting and color scheme should complement and highlight your merchandise, making the best use of space and aesthetics, and encouraging customers to make purchases with ease. Warm colors can create comfort for your customers, inviting them to stick around and shop a while. Bright colors can communicate energy and lead to fast-paced, quick shopping. Window displays can be organized to convey a simple, quiet tone if you want customers to view your store this way, or you can use window displays to convey a loud, vibrant personality for your store with bright colors, skewed angles and extreme presentation.
Lighting choices can work with or against the other aesthetic qualities in your store, and it's important to choose lighting that complements spacing and staging choices, color schemes and the functionality of areas like dressing rooms or checkout registers. Lighting can help present product and promote functionality. If lights are too harsh (as with large fluorescents and incandescent lights), customers might feel anxious while shopping. Rather, LEDs installed under cabinets and used as down lights (or recessed lights) can create a more subtle lighting effect. If your store highlights only a select amount of product, like in a retail gallery, make sure the lighting is directed to focus on the products exclusively, using accentuated and contour spotlighting. The lighting in your store should work to highlight the product, create the proper mood and enable functionality for customers and employees.
Placement choices for the different types of lights you use will change from location to location, and it's important to be able to maneuver lighting based on your needs. Depending on sales and seasons, the layout of your entire store might change, and designs such as track lighting can make lighting adjustments easy. Track lighting enables you to accentuate product while also contributing to the general lighting needs of the floor plan. When you consider dressing rooms and checkout registers, track lighting allows you to change the types of lighting, whether spotlighting or wash lighting, while maintaining maneuverability.
Your store might be presenting a small amount of products in a lot of space, or it might present countless items in shelving and on the floor space. Regardless, the lighting should complement and conform to the overall theme and mood of the store. Interior design for retail stores involves many choices, including smell, music and technology, and you should consider how lighting contributes to the overall effect of your store.
You also can use lighting to adjust for unfavorable shadowing, gloominess or glare. Your store shouldn't feel like a cave. Make appropriate lighting choices to convey the exact idea you had in mind when you began your store, how you wanted your customers to feel and how you wanted the products to look, and employ creative choices to achieve this.