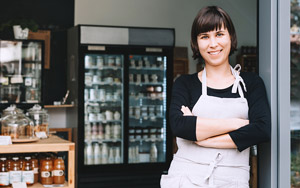 Independent Retailer Month is coming up in July and small businesses could use the help now more than ever. It's been a rough couple of months for everyone with the COVID-19 pandemic and nationwide shutdowns, but as storefronts are starting to open their doors again, it's a prime time to get your customers excited for what you have planned next month.
Getting its start in 2011, Independent Retailer Month is a shop local event that runs annually throughout July encouraging consumers to shop at independent retailers; highlighting their positive social and economic impact – locally, nationally and globally. You can learn more about what goes on during this month on the official website at www.indieretailermonth.com.
Curbside Pickup Promotions
Once retailers re-open their brick-and-mortar businesses, it's going to be very important to understand consumers' concerns. Most likely, shoppers will prefer to stay inside the safety of their home while making a purchase. According to a CommerceHub survey, 59 percent of consumers said they are more likely to use curbside pickup following the COVID-19 crisis.
This signals an adoption of social distancing that might become more prominent once the pandemic subsides. Providing more ways for contactless shopping gives physical stores the ability to provide what a customer needs quickly while reducing shipping costs and increasing brand loyalty. One promotion to think about utilizing during Independent Retailer Month is by offering same-day curbside pickup, or maybe even a certain percentage off an order if a customer utilizes curbside pickup.
Market Your Brand with Instagram Live
Instagram Live is a free feature for anyone who has an Instagram account. Prior to the pandemic, Instagram live could only be accessed through mobile. But recently, the social media platform made the feature available on desktop. Facebook shared that as of March 24, Instagram Live views in Italy alone doubled in just one week. With more available access and more time on their hands, consumers are utilizing Instagram Live as a way to connect with other users and brands.
Indie retailers can use Instagram Live to not only connect with their customers, but also to share the different promotions and sales you're offering during Independent Retailer Month. Show off any new merchandise you just got in, let your customers see you handling the products with a face mask and gloves so they feel more safe, and most of all, use this time as a fun way to show shoppers what your brand is really all about.
Spread the News to Your Customers
The most important thing anyone can do for Independent Retailer Month is by spreading the word! Hand out flyers to your customers who come in the store, put up signs around your store, make some social media posts, or put a sticker on your website. The internet makes it easy to promote this special month, and take note of what you can do in store as well.
What is your brand doing for Independent Retailer Month? Send an email to our editor at krystinam@sumnercom.com and she can help spread the word. You can also tag us in social media posts:
Twitter: indretailer
Facebook: Independent Retailer Magazine
Instagram: indretailer
Linked In: Independent Retailer