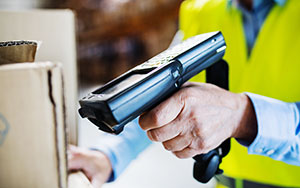 The holidays are over, including retail holidays Black Friday, Small Business Saturday, and Super Saturday. But, there is still one retail holiday left to contend with: National Returns Day. This more informal holiday takes place in the beginning of January when consumers flock to the stores and the Post Office to return or exchange holiday gifts. Last year, 1.4 million return packages were shipped on January 3rd. About 13 percent, or $90 billion worth of holiday sales were returned in January and February.
With these kinds of numbers, retailers can expect to see some of their holiday sales come back through their doors over the coming weeks. Pair these returns with any leftover holiday products still on the shelves, and it's easy to become overwhelmed. Here are some tips on how to handle holiday returns and seasonal overstock.
Sell at a Discount
You have the best chance of making higher margins if you're able to still sell the product itself. If returns and their packaging are not damaged, try restocking them on your shelves. The Wall Street Journal reports that these restocks usually sell for a 30 percent discount, as long as they are not damaged.
Sell Through Other Channels
If the returns are damaged, products aren't moving at all, or you just want to move on to new merchandise, you can sell your products to a closeout or liquidation buyer. You will part with your products for less than the wholesale rate, but this option is certainly better than having them sit on your shelves for months and certainly better than throwing them away.
What is Closeout?
There are many types of closeout companies. Some will buy your lot to resell it, while others will let you sell directly to other resellers as a third party. Some operate as an auction, while others are traditional flat-rate sellers. Also known as reverse logistics, or reverse supply chain, this side of the industry is really buzzing during the January and February months. Since 2008, online auction sales have grown 66%, and combined sales through factory outlets, dollar stores and value retailers have more than doubled.
Who Buys and Resells Closeout Products?
Retailers that sell closeout merchandise to customers include off-price sellers, flea market vendors, online sellers, and sometimes traditional retailers just looking for a good deal. They all know that after the holiday season is prime-time to stock up on low-price goods. So if you are trying to offload returns and seasonal overstock, strike while the iron is hot and sell those products via a closeout channel in January.
Donate to a Good Cause
Clothing and apparel are the most returned items during the holiday season and year round, followed by electronics and beauty products. If your returns and overstock aren't selling, and liquidating the products is not a good option, donate the goods to a local charity. It's a great way to connect to your community as a local business, and you can rest assured that the products will be put to good use.