By Charlotte Biggs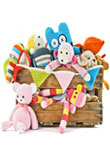 On top of all the daily tasks that face modern retailers, the thought of marketing a new toy range can be overwhelming. You have already spent a huge amount of time researching, sourcing and acquiring the new collection, and now you need to plan and deliver a marketing campaign too. While you can't neglect the marketing process, the very nature of toys means the job does not have to become a chore. The imminent arrival of a new batch of toys to your store offers the opportunity to have some fun, and get imaginative with your marketing.
Window displays
For brick and mortar retailers, your window display is prime real estate for showcasing your best and brightest products. As the very first impression you make on potential shoppers, your shop window is a great place to start showcasing your exciting new toy collection. Tempt customers into your shop with an eye-catching and imaginative window display that highlights your new toys, and the hours of fun they can bring.
Once customers are in the store, it's important to make sure they can still find the products that caught their eye. Creating a dedicated area that unites all your new toys gives you the shelf space to make a real impression on your visitors. By pulling in associated or complimentary products from your existing stock, you can also increase the impact of your display, while improving your chances of upselling or cross-selling.
In-store events
Unlike online-only shops, the major advantage for a physical store is the ability to see and interact with customers face-to-face. Hosting an in-store event can offer a fun way to celebrate the arrival of your latest toy collection, and get early feedback from your customers. Easily scalable to your needs and budget, an in-store event could be anything from a single demonstration to a full-blown teddy bears picnic with balloon modeling and face painters. The important thing is to be imaginative, and give people a reason to make the trip to your store.
Website promotion
For online-only retailers or those that have both a physical and virtual presence, your website is an ideal platform to market your new toy collection. Whether new or returning, visitors like to see what is fresh and different, so don't neglect your website when promoting new toys. Like an in-store display, it's important to dedicate some web space to your new toy range to make buyers aware and open to buying.
Storytelling
If you're not averse to getting creative, promoting your new toys can and should go beyond your website. The written word offers an appealing way to promote your new toy collection. The idea of using storytelling as a marketing technique has been growing in popularity among professional marketers. Easier to digest and a lot more fun than a dull sales letter, announcing the arrival of your new toys in the form of a story is a great way to get attention. Write a blog post, or message your email list with a short story that shows off your latest arrivals.
Social media
As a fun medium, social media could be the perfect partner for your exciting new toy range. Whether you use Facebook, Twitter, Instagram, Google+, Pinterest or YouTube, each social media channel enables you to send out bite-size marketing messages that can entertain and engage potential customers. Build anticipation with sneak peek photos before toys hit the shelves; start a "teddy takeover" on Twitter by tweeting as your toys; post their adventures in a Facebook album, or get social and encourage your customers to share photos of their toy purchases. By utilizing the short form of social media, you can test and tweak different marketing messages to see what interests and engages your customers.
Once you've started brainstorming marketing ideas, you'll soon have a heap of fun and exciting ways to promote your new toys, but don't overlook tried and tested methods. Old marketing favorites such as running a competition or giving coupons for repeat customers are still a great way to make customers aware of your new toys. The very nature of toys makes them the perfect product for independent retailers who are open to imaginative marketing. Whether you choose a single marketing scenario or decide to incorporate a number of these tactics, remember to measure your efforts so you can see what works, and replicate your best ideas on your next toy launch.